Over the years, coming home has meant many different things to Diane Thomas.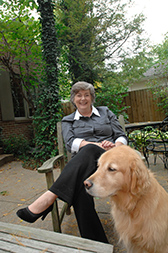 Diane Thomas (IBJ Photo/ Perry Reichanadter)
The daughter of a French mother and Libyan father, Thomas' childhood years were spent in France, Germany and Libya. Her globetrotting continued into adulthood, when Thomas represented the oil industry in Argentina and on Capitol Hill in Washington, D.C.

A move with her husband, Clay, and her children brought Thomas to Indianapolis in 1994. While the Hoosier capital is undoubtedly the least exotic stop on her long and winding road, it's where Thomas ultimately put down roots and embarked upon the next chapter in her career as president and CEO of the locally based International Center.

As her children grew up, Thomas was happily ensconced in a large family home on Pennsylvania Street, working as the external affairs liaison for Planned Parenthood of Central Indiana. But, over the course of a few years, she became a widow and an empty nester, making 5,000 square feet seem overwhelming and unnecessary.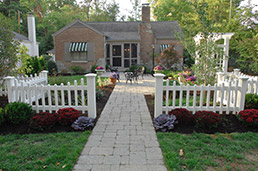 (IBJ Photo/ Perry Reichanadter)
That led her to her current home in Meridian Kessler, just a stone's throw from her previous address but a world away in terms of size and creature comforts. Earlier this year, Thomas set up house in a 1921 English Tudor cottage, downsizing to 1,500 square feet, two bedrooms and two bathrooms.

Often a popular choice for empty nesters, a condo wasn't the way to go for Thomas, whose son is a U.S. Army lieutenant serving in South Korea and daughter attends Indiana University journalism school in Bloomington. She opted for a single-family home that required less maintenance but still gave her a sense of individuality.

Her biggest challenge has been whittling down her collection of favorite furniture and decorative pieces, many of them acquired from around the world or from beloved family members, to fill out the limited space without making it feel overcrowded. Thomas also wanted to make every square foot meaningful, eye-catching and functional.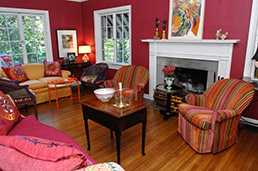 (IBJ Photo/ Perry Reichanadter)
"The thing about a little house is that everything has to count," she said. That meant turning certain rooms into multi-purpose spaces and taking advantage of every nook, niche and corner.

A small alcove in the kitchen became the perfect spot for Thomas to nestle a treasured desk acquired at the time of her marriage that her late husband used as he worked toward his MBA. In the living room, a small corner presented an ideal location for a built-in bookcase to house Thomas' personal library.

Throughout the home, furnishings, artwork and collectibles speak to Thomas' world travels and offer a glimpse into her family history. Bold red fabrics bought in France, where her mother still lives, cover living room chairs, while Egyptian cotton bedding in the second bedroom reflect her daughter's extensive travels in Egypt.
(IBJ Photo/ Perry Reichanadter)
In the small family room off the kitchen, her husband's grandfather's trunk serves as a coffee table, and a mobile reminiscent of the American sculptor Alexander Calder hangs from the ceiling, providing a modern element in the mostly traditional interior.

One thing Thomas is not keen on displaying are family pictures. "I'm not a big fan of photographs," she said. "I'd rather [use] things that remind me of people and family."

A constant reminder of her father is the water-color artwork that he painted during World War II as part of an Army contest. It was years later when he discovered the paintings on display on one of the walls of the Pentagon. They now hang above the doorway between the family room and dining room in Thomas' house.

Despite the houses' small size, Thomas was emboldened by Indianapolis-based designer Debra Maley to use strong color on the walls and with the furnishings, a choice she has heartily embraced. "One thing I have really enjoyed about working with Debra is that she really loves color," Thomas said. "People are afraid to use color, especially in a small space."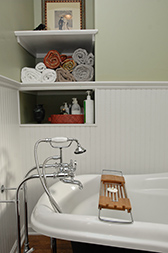 (IBJ Photo/ Perry Reichanadter)
Having only lived in the house for about six months, Thomas is still getting used to her new surroundings. One impediment is her frequent travel; she is often out of the country for work or family visits abroad.

Leading the not-for-profit International Center has put Thomas at the forefront of many global initiatives affecting Indiana. The organization provides language, assimilation and other training for businesses and individuals and offers protocol services for companies working overseas.

Thomas was introduced to the international community here when she enrolled her young children in the International School of Indiana in its first year. That was in the mid-1990s, when she was working with Planned Parenthood and hadn't ever considered the prospect of promoting international cooperation with Indiana.

After her husband Clay's death in 2002, she took a detour into volunteering, and developed skills and passion for leadership and fundraising. From there, Thomas began slowly pursuing a master's degree in philanthropic studies from IUPUI. At age 48, in 2006, she started her job at the International Center before obtaining her degree three years later.

Thomas attributes her decision to remain in Indianapolis to the sense of community and warmth she felt after the death of her husband. "I could not believe how much people cocooned this family. I have lived in a lot of places, but nowhere else felt like this," she said. "This is home."•