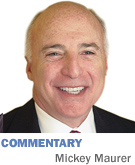 I spoke at a Mensa meeting recently. Mensa was founded in England in 1946 with only one qualification for membership—a high IQ.
Members of Mensa must have attained a score within the upper 2 percent of the general population on an intelligence test that has been approved by the national association. In other words, Mensans are smart.
Try this riddle that was discussed at the meeting: A man stands with a bucket of water in his hand. Provide at least three explanations of why when he turns the bucket over there is still water in the bucket.
The society's limited agenda is to provide a stimulating intellectual and social environment for its members. I tried to do that. Together we created a crossword puzzle patterned after a popular children's game. See 39 across.
Match wits with Mensa by solving the crossword puzzle and unscrambling the circled letters in the suspects' names to reveal the specific 36 across.
Answers can be downloaded here.
______
Maurer is a shareholder in IBJ Corp., which owns Indianapolis Business Journal.  His column appears every other week. To comment on this column, send e-mail to mmaurer@ibj.com.
Please enable JavaScript to view this content.