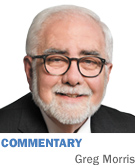 I'm sure you've noticed there is a hotly contested election for mayor of Indianapolis. In my business circles, it has been a frequent focus of discussion for months.
The problem with this campaign and most others is, by the time the election gets here, after all the negative commercials and nasty exchanges, we are so disgusted with the whole process, we don't care who wins. We just want it to be over. But, we have to care.
I'm here to defend the process and encourage more discussion and more engagement in elections and other matters of civic importance. Even with all the imperfections, our political system is the best in the world. It is not only our right, but it is our duty, to educate ourselves on the issues and vote freely for the candidates of our choice. From local elections to the presidency, it matters who is in office. Our votes do matter.
In the past 60 days, results of the 2011 Indiana Civic Health Index were released. There's been some media coverage on this report, including in this paper, but some findings need to be repeated over and over until we are able to influence change in civic engagement in this state.
First, a little background on the report. The Indiana Civic Health Index examines behaviors and attitudes of Hoosiers regarding civic life and explores resources and impediments that affect how citizens of Indiana participate in civic life. Our state information is then combined with data from other states to produce America's Civic Health Index.
The partners on this project include National Conference on Citizenship, Center on Congress, Indiana Bar Foundation, Indiana Supreme Court, Indiana University Northwest and the Hoosier State Press Association Foundation.
The report looks at engagement in various categories, such as joining an organization, volunteering, social connectedness that comes from spending time with family and neighbors, and voter registration and turnout. For this particular discussion, I'm going to concentrate on voter registration and turnout.
Indiana fares well in some areas of the report, but Indiana's voter registration and turnout numbers are pathetic. There's no nice way to say it. Indiana ranked 48th in the nation in voter turnout among residents in 2010, with a turnout rate of 39.4 percent, six percentage points lower than the national average of 45.5 percent, which is also unacceptable. In 2006, Indiana's voter turnout was 45.5 percent.
Indiana ranked 43rd in the number of citizens registered to vote, at 61.2 percent, down from 65.4 percent in 2006. With only a few exceptions, fewer people have voted in Indiana than nationally in every midterm election since 1974. In addition, Indiana ranked 48th in the frequency of its citizens' discussing politics.
You're going to be hearing a lot more from me on civic engagement because I know I'm talking to influencers. We need to all get on the same page and try to effect some positive change in this area.
I don't want to leave the impression that nothing is being done to try to improve these results. Many great programs exist to improve civic engagement. Indiana Supreme Court Chief Justice Randall Shepard has been active in this area. The Indiana Supreme Court runs Courts in the Classroom to help educators, students, historians and interested citizens learn more about the history and operation of Indiana's judicial branch.
The Indiana Bar Foundation has been supporting programs since 1996, like We the People, the Citizen and the Constitution, the Indiana Legislative Youth Advisory Council and the United States Senate Youth Program, all designed to engage Hoosier students in the workings of government.
Many other worthwhile endeavors are taking place, but each of us needs to take an active role in leading by example and educating folks on the importance of civic engagement. Without taking sides, could there be a more important presidential election than the one coming up next year? What about the future of Indiana as we elect a new governor?
As this election cycle wraps up, it's OK to take a short break, but there's a lot of work to do between now and the next election. Your leadership, your civic engagement, and your vote all matter. Please let me know what you think. We'll work on this together.•
__________
Morris is publisher of IBJ. His column appears every other week. To comment on this column, send e-mail to gmorris@ibj.com.
Please enable JavaScript to view this content.