A multimillion-dollar makeover now under way at The Fashion Mall at Keystone will add an upscale food court and about 20 stores, many of them new to Indianapolis.

Mall owner Simon Property Group Inc. kicked off the transformation of the state's premier shopping mall in recent weeks, though the most invasive work won't begin until after the holiday shopping season.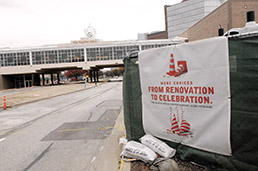 Simon Property Group has launched a revamp of The Fashion Mall that involves an expansion of a bridge connecting the mall's east and west wings. What's now the food court will become space for small retail shops.(IBJ Photo/ Perry Reichanadter)
Simon will convert a small food court on a bridge that connects the mall's west and east wings into a wider hallway with high-end retail shops, retail real estate brokers said. An existing retail space near the bridge in the mall's west wing will be transformed into a more comfortable and upscale food court.

The company, which declined an interview request to discuss the project, has said in regulatory filings that The Fashion Mall is among 21 of its properties slated for renovation or redevelopment.

Together, the projects will cost $311 million. The company did not specify how much it will invest in individual malls or name any of the new tenants it expects for The Fashion Mall.

The project will add about 37,000 square feet to the roughly 680,000-square-foot property, construction permits show. Another 135,000 square feet will be renovated.

The work is slated for completion by December 2012.

"Simon is of course trying to improve every asset in their portfolio and this is the jewel of Indianapolis," said Mark Perlstein, a principal with locally based Sitehawk Retail Real Estate. "There are a lot of retailers that are not yet in Indianapolis; I'm sure they're in discussions with Simon."

The mall—the oldest portion of which was built in the 1970s—has undergone several transformations over the years, including an expansion into space once occupied by a sister mall called The Bazaar, Perlstein said.

The food court remains open for now as workers lay footings and address mechanicals for the expanded bridge.

The tenant mix is always changing, but one thing is constant: Fashion retailers with just one store in Indianapolis gravitate to The Fashion Mall.

The mall's newest tenant, Urban Outfitters, is renovating the former Williams-Sonoma Home space in the Nordstrom wing and expects to open in time for the holiday rush.

Simon had been considering an expansion of The Fashion Mall at least since 2007, when the company drew up plans to add 150,000 square feet to help fend off a potential challenge from the nearby Venu project.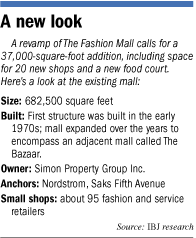 The $750 million office, retail and residential vision from Premier Properties' Christopher P. White looked like a potential challenge to Simon's retail dominance at the prime East 86th Street and Keystone Avenue intersection until Venu—and its developer—foundered in the real estate downturn.

Mark Koplow, who owns Raleigh Limited Menswear, The Fashion Mall's most tenured tenant, is excited to see the renovation move forward.

"I think it's going to be a windfall for me," said Koplow, whose store opened in 1975, and last year moved to a new spot near the escalator to the food court. "Anytime you invest in a property, it's always good, and they're really taking it seriously. The couple of renderings I have seen look really nice."

The Fashion Mall and Castleton Square Mall, also a Simon property, are anchors on opposite ends of the city's most-sought-after retail corridor and a hotbed of new development.

Locally based PK Partners is redeveloping an office building in front of The Fashion Mall to accommodate the upscale Ocean Prime restaurant and building a stand-alone location for Distinctive Diamonds.

Keystone Construction is planning a $40 million apartment and retail development at the northwest corner of 86th and Keystone, opposite the mall.

The owners of the Sheraton Indianapolis, which is attached by skywalk to the mall, are converting the hotel's south tower into luxury apartments.

And to the east, Kite Realty Group has added Nordstrom Rack and The Container Store to its newly renovated Rivers Edge shopping center.

Simon has not shared the names of any tenants it is recruiting for the new small-shop space, but local brokers expect plenty of new-to-market names.

"Simply put, I'd say the best of the best," said John Byrne, a retail broker and vice president in the local office of Cassidy Turley. "What Simon has continued to do with The Fashion Mall is interest tenants to come to Indianapolis who didn't previously have it on their radar screen."•