At Trinity Free Clinic in Carmel, dentists see signs of a fallen economy in mouths full of crowned teeth.
Unlike traditional charity-clinic patients, these folks have spent hundreds of dollars on dental care in the past, Executive Director Maggie Charnoski said. Now they can't afford to pay for a filling.
"It's unbelievable," Charnoski said. "We've had CFOs in here."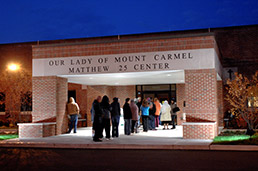 Trinity Free Clinic in Carmel offers acute medical and dental care on Saturday mornings. The service is first-come, first-served, so people line up long before the clinic opens at 8 a.m. (IBJ Photo/ Perry Reichanadter)
The health clinic next to Our Lady of Mount Carmel Catholic Church on 146th Street began in 2000 to serve a growing Hispanic immigrant population, and that was the majority of its clientele until the latest recession. So many people have now found their way to the clinic that the portion of white patients grew from one-third in 2008 to 47 percent last year.
In addition to first-time unemployed professionals, Charnoski sees entrepreneurs who've dropped their health insurance to keep their businesses going, as well as their employees.
The pool of people looking for a safety net is widening across Hamilton County, the most affluent county in Indiana. That's partly because of its rapid growth—more people means more problems such as domestic violence and addiction, said Bob Cross, director of research and planning at United Way of Central Indiana, which recently surveyed the county's social-service needs.
It's also because the suburbs have not been immune to three consecutive years of rising poverty rates, which reached 15.1 percent nationwide in 2010, the U.S. Census Bureau reported.
In Hamilton County, the poverty rate was just 5.6 percent in 2009, but it rose from 3.9 percent in 2007, according to the latest available estimate from the census. Median income fell in that time from $83,000 to $76,878.
The county's health care industry seems to have been especially tested, United Way noted in the report on its survey. Unlike in Marion County, where more than half a dozen organizations operate health clinics, free or sliding-scale care is scarce in the suburbs.
Kingsway Community Care Center in Avon, for example, is the only not-for-profit dental clinic between Indianapolis and Rockville, Executive Director John Mollaun said.
After moving into part of a new $2.2 million building provided by Our Lady of Mount Carmel in July, Trinity is considering whether to switch from providing only acute care to primary, meaning it would take on people who have diabetes and asthma as regular patients.
"We have an awful lot we have to find a medical home for," Charnoski said. "There's limited resources in Hamilton County."
Trinity operates separately from Our Lady of Mount Carmel Church, which started the clinic and continues to lease it space for $1 a year. It has become one of the most comprehensive suburban clinics, offering emergency dental and medical, eye exams and women's health care.
The clinic relies on 450 volunteers, about a quarter of whom are medical professionals. Partly because of increased services, traffic has grown 10 percent to 15 percent in each of the past five years, and Charnoski expects to record 4,000 visits this year.
People arrive hours before the clinic opens on Saturday mornings for first-come, first-served medical and dental care. Dental care is so often overlooked or unaffordable, even to people who have insurance, that it accounts for about half the work Trinity does, Charnoski said.
Almost all have some kind of toothache, and two patients this year have been sent on to the emergency room because their infections were too severe, Charnoski said.
The scene in Trinity's waiting room on a recent weeknight was hardly Dickensian. People arriving for flu shots or eye exams arrived in their own cars, carrying smartphones. Alondra Solis, 13, her mother, Lucila Zuniga, and a neighbor from Westfield decided to take advantage of the free flu shot, which they heard about when Zuniga was in the clinic for a mammogram.
Solis said she and her mother, who speaks mostly Spanish, don't have health insurance, so they don't have a regular doctor. "We only go if we're really sick or for vaccinations."
Zuniga works at a prepared-foods company in Noblesville, and she has a side business selling tamales. Solis wears braces, which she said is thanks to her mom's disciplined saving.
Trinity doesn't verify incomes or turn away those who have insurance. In fact, people who are still working but now face high deductibles are part of the new post-recession clientele mix, Charnoski said.
The implementation of President Obama's health-insurance reforms in 2014 could close the gap that charity clinics are filling now, but most of those clinics think there will be plenty of reason to stay open, said Ellen Quigley, grants officer at Richard M. Fairbanks Foundation, which funds Trinity and a host of clinics in Marion County.
"What we've heard from the clinics is, there are people who are fearful of government entities and getting involved with big systems," Quigley said. "They're hesitant to access federal or state benefits."
And illegal immigrants are part of that picture, she said. "They're never going to see the benefits of health care reform."•
Please enable JavaScript to view this content.