As busloads of students unloaded in front of the Indiana Repertory Theatre, a deposed dictator on the other side of the world was shot in the head while allegedly begging, "Don't shoot."
I don't think a whole lot else need be said about the relevance today of William Shakespeare's "Julius Caesar."
Whether dressed in robes or in business suits, the Roman emperor and his assassins are contemporary characters: high-minded in their rhetoric, brutal in their methods, and unable to anticipate the fallout from their actions. Sound familiar?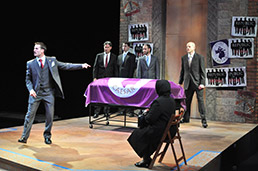 Caesar is praised/buried at the IRT. (Photo/ Julie Curry)
Although presented as part of its mainstage season, the IRT's production (which ran through Nov. 5) played primarily to such student groups who, I think, got their field-trip's worth. Any opportunity to see political struggles in colors other than black and white is most welcome these days, particularly when the language is so glorious and truthful—and spoken with such clarity and passion by the largely local professional cast.
What gets lost here is scope. It's difficult to see or care about what's really at risk besides the moral compasses of the key characters. With a downsized cast, the battle seems less over the future of an empire and more like an Occupy Terre Haute dispute. In modern garb, the soothsayer and the return of Caesar's ghost don't quite mesh, either. The Portia subplot doesn't ring true or essential and Octavius barely registers.
At the loss of scale, though, we get intimacy, at least among the men. There's a solid sense of engagement as they debate and attempt to sway one another into a position of specific action. The impact of their orbits on one another's—and the
confusing void left in the aftermath of their collective murder—is what made this the strongest so far of the IRT's Shakespeare for a New Generation offerings.
____________
"Forbidden Broadway" was a long-running New York spoof that offered a new revue every year lampooning what was playing right down the block on Broadway. The kick in Manhattan was that this little show was openly kicking the ankles of the big guys. And it often did it with shocking precision.
Timeliness, not timelessness, was also key to its success. Much of "Forbidden Broadway" was built on the specifics of the season—"Beauty and the Beast" scaling back, "Fiddler on the Roof" being offered with a decidedly gentile cast, et al. To top it off, "Forbidden Broadway" wasn't afraid to be hostile, assuming the default setting that most contemporary musicals are pretty weak—at least, compared to the glory days of Ethel Merman, Mary Martin and their lessers.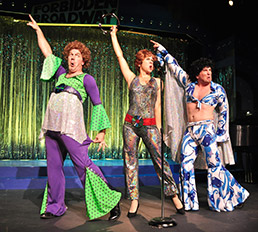 "Mamma Mia!" gets a drubbing by Actors Theatre (Photo/ Julie Curry)
Actors Theatre of Indiana, in revising its production of "Forbidden Broadway" (through Nov. 20 at the Center for the Performing Arts' Studio Theatre) valiantly attempts to overcome both those challenges by ignoring them. It doesn't seem to care that many of the references are obscure or that its central Indiana mainstream audience is less likely than the show's creators to think "Phantom of the Opera" and "Wicked" are lame. And ACT has faith that its crowd can differentiate between Chita Rivera and Rita Moreno and that it will get a Kristen Chenowith impression.
If you are going to do this show, that seems to be the right approach. And the spirited quintet (the three ATI principals plus Billy Kimmel from the NYC "Forbidden Broadway" and pianist Nathan Perry) manage to somehow pull it off with limited awkwardness. The impressions are fair and the singing strong, but the best moments come when the material allows the players to be physical, whether trying to balance the weighty Julie Taymor costumes in a "Lion King" parody or hilariously spoofing the relentless turntable that kept the original production of "Les Miserables" spinning.
____________
Among the many smart choices Acting Up Productions director/designer R. Brian Noffke made in adapting the zombie groundbreaker "Night of the Living Dead" to the stage, the smartest was to have his actors take their characters' plight seriously.
That's not to say the evening spent with the living dead at the Indy Fringe Building wasn't fun. It was loads of fun.
But it was fun in large part because a group of committed actors didn't break for romance, they didn't break for song, they didn't break to wink at the audience, and they never for a minute seemed to forget there were a growing number of unexplained, shuffling creatures outside who wanted nothing more than to eat them.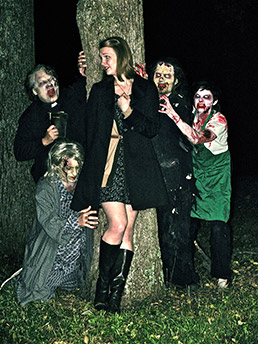 Newcomer Acting Up Productions offers a straight-faced "Night of the Living Dead." (Photo/ Roy Chamberlain)
Sam Fein, Mick Seldon and Lisa Ermel—whose faces, if not all their names, may be familiar from local stages—each gave the kind of performances that, in movies, bring to life the underdeveloped characters typically found in horror-movie screenplays. (No, this is not a brilliant play. But does anyone want a brilliant zombie play?)
Second among the smart choices made by Noffke was to show fairly early on how bloody crazy gory violent the show can be—then to hold back so that otherwise uneventful dialogue-heavy scenes become packed with suspense. It's those "don't open the door" moments that helped balance gore with goose bumps.
Noffke also wisely used the IndyFringe Building space, resetting the story in an abandoned church. The environmental staging, accented by effective lighting and just enough cheesy music, let audiences know from the beginning that they were in good hands. Even if those hands may, without warning, be ripped from their arms.
"Night of the Living Dead" ended its limited run Oct. 22. But I'm guessing it will be back. Zombies are like that.•
__________
This column appears weekly. Send information on upcoming arts and entertainment events to lharry@ibj.com.
Please enable JavaScript to view this content.