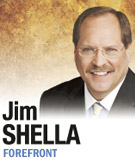 I ran into Richard Mourdock in a Statehouse hallway the other day and I gave him a bad time.
"I'm surprised to see you here," I said. "The Lugar folks say you never come to work anymore."
The man who is challenging U.S. Sen. Richard Lugar in the 2012 GOP primary hung his head and quietly talked about what a "slog" a statewide campaign is. He said that he had just experienced an "introspective weekend." Might he leave the race? Not a chance.
There's too much invested now, including $100,000 of his own money. But is he on a fool's errand?
One of our producers wondered that the other day when I volunteered to work a Friday night (not my usual practice) to do a story on the Senate race. Aware of the fact that Lugar has $3.8 million in the bank and Mourdock has $300,000, the producer asked, "Can Mourdock win this thing?"
"The short answer is, yes," was my response. Mourdock doesn't have the gravitas, the experience, or the fundraising ability Lugar has, but this race isn't about him. It's about the Tea Party movement and how Lugar is the biggest target on the horizon for national organizations looking to put another pelt on the wall to demonstrate their clout in Washington.
That's why when the Tea Party Express sent representatives from Georgia and California to endorse Mourdock, they couldn't answer a simple question about why they support the challenger. All the discussion was about their belief that Lugar must go. After I asked repeatedly for a reason they support Mourdock, the candidate finally stepped in and listed the issues they had talked about.
It was the same when Freedom Works, the political action committee led by former Texas congressman Dick Armey, sent a representative from Virginia to grant Mourdock an endorsement. He brought along signs for the crowd (made up of local Tea Party members) that read "Retire Lugar." He passed out a seven-page list of grievances against Lugar that includes the same vote for a successful New York City bailout that was the subject of Club for Growth TV ads earlier this year.
Endorsements generally come with donations attached but there will be none forthcoming from Freedom Works. These folks don't want to bolster the message being put out by the Mourdock campaign. They want to send their own message and they will. Look for lots of what are known as independent expenditures in the coming months. They will be attacks on Lugar.
Mourdock, meantime, doesn't want to be called a Tea Party candidate but, rather, a coalition candidate. He cites support from a number of GOP county chairs and mayors to back up that claim. Those people, however, are also Tea Party supporters.
Max Pappas of Freedom Works told me his group will be involved in just two GOP Senate primaries involving incumbents in 2012—Indiana and Utah. In Utah, Orrin Hatch still doesn't have a solid opponent, though he may yet. That makes Lugar the only game in town at the moment. That's why the Lugar campaign is scouring the landscape for dirt on Mourdock.
When Lugar ran for president in 1996, he set out to prove it could be done using positive campaign tactics. I was invited to appear on a taping of "Washington Week in Review" on PBS during that campaign, and when I said Lugar was "taking the high road," the late Jack Nelson of The Los Angeles Times responded by saying, "There aren't many voters up there!" With 4 percent of the vote in Iowa and New Hampshire, Lugar learned that lesson.
I suspect he will fight hard and use whatever methods necessary in this race, but there will be times it will be difficult to know whom he is fighting against.
Richard Mourdock won't defeat Richard Lugar in 2012, but Lugar could still lose this race.•
__________
Shella is WISH-TV Channel 8's political reporter as well as host and producer of the Emmy-nominated "Indiana Week in Review." Send comments on this column to ibjedit@ibj.com.
Please enable JavaScript to view this content.