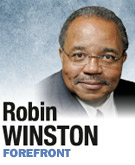 In a June 6, 1985, speech at Northside High School in Atlanta, then-President Ronald Reagan, known by many of his party and many Americans as a fiscal conservative committed to reducing taxes, said, "We're going to close the unproductive tax loopholes that allow some of the truly wealthy to avoid paying their fair share. In theory, some of those loopholes were understandable, but in practice they sometimes made it possible for millionaires to pay nothing, while a bus driver was paying 10 percent of his salary, and that's crazy."
Write this down: I agree with Reagan that it is "crazy" that we allow tax breaks that benefit millionaires more than the middle class. Before anonymous bloggers decide to have a field day with my quote, note that this is one of the few areas where I agree with Reagan.
Now, when President Obama proposes the same type of legislation, his detractors claim he is a socialist and a practitioner of class warfare. Nothing could be further from the truth. If that is the case, what was Reagan? It seems to me that, some 26 years ago, Reagan agreed with Obama that all of us must share in the sacrifices to get our fiscal house in order.
Don't simply rely upon my Democratic leanings. A few weeks ago, our community played host to Warren Buffett as he highlighted his investment in the Meadows neighborhood. Buffett, clearly a multibillionaire and not regarded as a wild-eyed liberal, agrees with both Reagan and Obama. In fact, Buffett said those who are millionaires should not "pay a lower part of our income in taxes than our receptionists do, or our cleaning ladies, for that matter." Buffett's secretary actually pays a higher percentage of her income for taxes than Buffett. Now that's "crazy."
The president's proposal is grounded in fairness and reality. A key tenet is that those making over $1 million should not pay less as a percentage of their income than middle-class taxpayers.
How many people does this affect? Less than 0.3 percent of our population. White House estimates conclude that 22,000 millionaires—making more than $1 million annually—paid less than 15 percent of their income in taxes in 2009. And the top 400 richest Americans, all making over $110 million per year and making an average of $271 million per year, paid only 18 percent of their income in income taxes in 2008.
In fact, since the mid-1990s, the share of income paid by the wealthiest 400 Americans has fallen nearly 40 percent, from 29.9 percent in 1995, even as their average incomes roughly quadrupled. Once again, that's "crazy."
In spite of high unemployment, Senate Republicans defeated the president's plan for tax fairness by defeating his $447 billion jobs plan. That plan included implementing higher taxes on the wealthy and eliminating special breaks and loopholes for those more fortunate in our society. It meant eliminating tax loopholes for oil companies and hedge fund managers.
What would the president's plan have meant for Indiana? According to White House research, 110,000 firms would have received a payroll tax cut; immediate investments of at least $703 million would have supported about 9,100 local jobs; $629.3 million would have been used to support 9,100 educator jobs; over $360.8 million could have been used to revitalize and refurbish local communities; and over 155,000 long-term unemployed workers in Indiana would have gone back to work.
That's right; the Republicans defeated the president's job package because it would lead to higher taxes for millionaires. Please remember that the president's proposal includes several ideas once touted by Republicans as a way "to get America back to work." This time, the Republicans would rather have millions out of work if it results in one man—Obama—losing his job. Now, that is truly "crazy."•
__________
Winston is president of Winston/Terrell Group, an Indianapolis-based government affairs, public outreach and community relations firm. He was chairman of the Indiana Democratic Party from 1999-2001. Send comments on this column to ibjedit@ibj.com.
Please enable JavaScript to view this content.