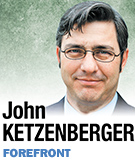 Rol Wagner used to roll up to my house before 6 a.m. during the summer in a dingy white pickup, my buddy Mike already scooting over to the center of the bench seat. We were headed to the County Line Cheese factory to replace the whey-covered flat roof.
Mike and I made good money that summer we were 17 and we learned a few things, too, like how to climb a 30-foot aluminum ladder with a 40-pound roll of roofing felt on your shoulder. When I got about halfway up that swaying ladder, I couldn't help but think of that video of the Tacoma Narrows Bridge that bucked like a mule until it collapsed.
I'm reminded of Rol sometimes when the kids are puzzled and I'm asking indirect questions as a way to help them figure out an answer.
"That's using the old kidneys," I'll tell them, tapping my temple when they've deciphered a problem. That's what Rol told me when I figured out how to swab just enough cold tar onto a seam to make it hold without costing him too much money.
Rol was pretty good with a utility knife, too. He seemed to know just where to cut a snug vent hole without measuring. On those rare occasions when he was off a little, he'd smear plastic roof cement around it and claim, "They'll never see it from the courthouse." I don't know if anyone ever inspected our work, but I'm guessing Rol's fix held because he had plenty of jobs in my small hometown.
Rol came to mind recently during a panel discussion I moderated for a webinar hosted by the Metropolitan Indianapolis Board of Realtors. We were talking about how to better develop central Indiana to ensure the region remains economically strong when the subject turned to leadership.
To me, leadership is something that's hard to define but you know it when you see it.
This was a point Keira Amstutz made, too, but it was her next assertion that got me thinking about Rol Wagner. The Indiana Humanities president and chief executive opined that we often look in the wrong places for leadership. Instead of hoping for it from those atop political or business organizations, she asserted, we should look around us for examples to emulate.
The vested interests in politics and business—yes, there are many exceptions but we're apparently transfixed by the spectacles in Washington, on Wall Street, and even in the Statehouse—will not produce economic momentum or make our community a better place to live. It's not even a byproduct anymore of what's become a static and narcissistic system.
Leadership, then, is up to us, and Rol Wagner's the kind of person who came to mind.
That may seem ridiculous when I recount that, during breaks, Rol didn't talk about leadership or anything else. Mostly he smoked cigarettes and listened to country music from the radio in the cab of his truck while Mike and I recovered in the shade. We were just doing a job and making a few bucks to blow cruising the strip. Rol was just the guy who paid us.
One day, though, we ran by Rol's house north of town to pick up some roofing felt and tools. His big house sat on a couple of acres of green grass. A painted white fence enclosed a well-kept garage and two barns where he kept a few immaculate old cars. Rol had done pretty well with his roofing business and it changed the way I thought of him.
Instead of a quirky source of gas money, Rol became a symbol of success. After that, I heard more than just entertaining aphorisms come out of his mouth. I started to hear him talk about people in town he respected, people whose work helped others. People, I came to realize, that were like him.
I'll bet you know a few Rol Wagners. Think of them when you need a shot of optimism.•
__________
Ketzenberger is president of the Indiana Fiscal Policy Institute, a not-for-profit dedicated to nonpartisan research into the state's tax policies and budget practices. Send comments on this column to [email protected].
Please enable JavaScript to view this content.