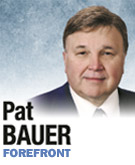 Question: Will any major issues have bipartisan support in the upcoming General Assembly?

Answer: There is a long history of bipartisan cooperation in the Indiana General Assembly, thanks in large part to shared control of the Legislature.

As recently as 2009 and 2010, close to nine of every 10 votes in the House reflected support from both sides of the aisle.

There certainly is reason to be concerned about the hazards of one-party rule, especially if 2012 continues a disturbing trend started in 2011, when the number of partisan party-line roll call votes in the House went up almost 400 percent.

That shows an increased unwillingness to seriously consider any policy ideas offered by the minority. We should not be mirroring the tendencies demonstrated by a Congress with approval ratings in single digits.

But there are encouraging signs.

Indiana House Democrats agree when the speaker criticizes a "poorly worded" new law that confuses voters by keeping unopposed candidates off municipal election ballots. Although it's too late to do anything to help this year's elections, we will help him change that law.

We also will help the Republican majority correct another goof made this year when that party mistakenly eliminated the state's Family and Social Services Administration.

These are the kinds of errors that take place when one party runs the entire show and believes it can do no wrong.

I also think the Republicans can learn from these mistakes and realize that it hurts all the people of Indiana when they use single-party control to advance a narrow agenda that benefits a very few.

The Legislature's short session is designed to handle emergency matters. There are plenty of emergencies to be handled.

There will be no greater priority than helping find jobs for more than 266,000 Hoosiers officially classified as unemployed and the thousands more who have given up hope of finding a job.

We need to react to those numbers with something more than studied indifference. At some point, we need to realize that simply claiming Indiana is doing better than Michigan or Ohio or Illinois does not help get 266,000 Hoosiers jobs so they can support their families.

There also needs to be a realization that the answer is not found in pursuing a policy of "right-to-work." It has been proven time and again in other states that this ruinous idea does not create jobs, pay workers a decent wage, or make the workplace safer.

Perhaps the Republicans will join us in realizing that small businesses are the engine that drives Indiana's economy since those businesses are responsible for 80 percent of job creation.

Why wouldn't they want to make sure Hoosier workers get first crack at any jobs created by Hoosier tax dollars? Why not make it absolutely clear we prefer Hoosier workers for Hoosier jobs?

I also fail to see why they wouldn't want to demand accountability from companies that benefit from taxpayer largesse. Waste, fraud and abuse should not be tolerated from anyone, no matter how large the income.

We should be able to agree that the Legislature must live up to its constitutional obligation to provide an education for all students, rather than a select few.

Indiana should invest in proven education reforms like the kinds of pre-kindergarten programs already up and running in 40 other states.
Accountability should be a requirement for all schools that receive public tax dollars.

We should realize that Hoosiers desperate to find work aren't necessarily proud that its state leaders choose to brag about having a billion-dollar surplus, rather than making an investment in those citizens most in need of help. As we have seen, a surplus is not a jobs plan.

If we agree on these points, Republicans and Democrats can work together in the 2012 session of the Indiana General Assembly.•

__________

Bauer is Indiana House Democratic leader and vice president of external partnerships at Ivy Tech Community College. Send comments on this column to ibjedit@ibj.com.