Beverly Miller gets several calls a week from frantic business owners who've been let down by the sign companies they hired. Most often, the client has Googled sign companies and found someone who agreed to slap together some lettering. Then the client discovers the sign doesn't comply with the building landlord's restrictions or with city codes.

Miller wishes more people would think ahead a little further on their signage needs, but she willingly steps in to clean up the mess when they don't. Her company, A Sign by Design, has been walking clients through the entire regulatory, design and manufacturing process of both interior and exterior signage since 1988, when Miller started the business in a spare bedroom.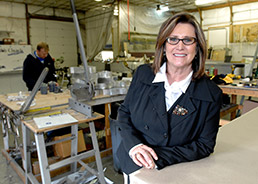 Beverly Miller's company designs and manufactures signs in a 10,000-square-foot facility. (IBJ Photo/ Perry Reichanadter)
"We take a client's idea, navigate it, install it, service it," she said.

This full-service approach, which can take anywhere from 10 weeks to a couple of years if code complications arise, is uncommon. It was downright novel, Miller said, when she decided to start a sign company that would be accountable to customers for the entire project, including maintaining the sign once installed.

About 60 percent of what ASBD designs and manufactures is channel-letter signs—individual lettering, usually illuminated, attached to a building. The next most common requests are monuments (in-ground, stand-alone signs often near the street in front of a business) and pylons (tower signs that list several businesses in a shopping center or business park, for example).

Miller, 62, came into ownership of her sign company through a circuitous route. In fact, she never harbored a desire to start any kind of business at all. She had worked in marketing and as a controller while studying accounting part time at IUPUI in the late 1970s and early 1980s and raising two children as a single mother. She was just trying to make ends meet for several years, she said, living on welfare part of the time, after her husband left her while she was pregnant.

While serving as controller and sales representative for a sign company during this period, Miller learned the ins and outs of the sign business. Remarried and with teen-agers by 1988, Miller wanted to see if she could fashion a company that would allow her the control to deliver customers what they wanted.

"I realized very quickly what I had been missing in my life," she said. She loved providing service and a product that followed through on what had been promised.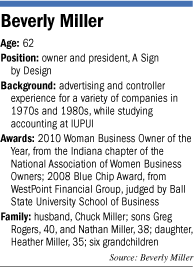 Success is "trust, commitment," Miller said. "You do what you say you're going to do."

Trust is what has brought Craig Anderson, vice president of Anson property operations at locally based Duke Realty Corp., to Miller's door again and again for nearly 20 years. He has recommended ASBD to hundreds of Duke tenants over the years.

Anderson said he had worked with too many sign companies that didn't deliver what they said they could. But Miller "quickly figured out" how to work within Duke guidelines and also design a sign that pleased Duke's tenants.

"If [clients] are not happy with our recommendation" for a sign company, he said, "they are not happy with us."

Word of mouth is what has kept A Sign by Design thriving most of its 23 years. Miller outgrew her home business in 1992, renting space in Park 100 and hiring full-time employees for the first time. She has moved three times since, each time to larger space. The company's home since 2003—on West 106th Street, just off Michigan Road—consists of about 10,000 square feet of manufacturing and office space.

Word of mouth also has helped the company expand its service nationwide. Work done locally for clients such as Verizon Wireless, Lincoln College of Technology and Amazon.com led to projects for those businesses in other cities. About 30 percent of ASBD's nearly $2 million in annual revenue is now out-of-state business, Miller said.

But the company's road has not been all smooth. The recession "hit hard," Miller said, because it hit ASBD's customers hard—especially mom-and-pop businesses, those in the auto industry and big-box retailers.

By 2010, times at ASBD were lean and Miller was forced to lay off valuable employees. But business is up 40 percent this year, she said. Miller has hired 10 people since the fourth quarter of 2010, bringing employment to 35 from a low of 22 early last year.

Even during the belt-tightening, ASBD retained a loyal band of workers. Eleven employees have been with the company 10 years or longer, a few 15 years or more.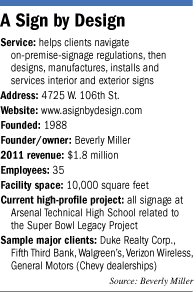 R.J. Martin has been there 16 years, in fact. Now senior production manager, he oversees all manufacturing and helps with the installation schedule. His wife worked at ASBD first and did such a great job of singing the praises of her work environment that Martin was convinced to give it a try. He has not regretted it.

Miller is "very fair and understanding," he said. "Just a great boss to work for."

The Indianapolis chapter of the National Association of Women Business Owners also likes the way Miller runs her shop. She was named 2010 Woman Business Owner of the Year by the local organization. Stacy Shew, executive director of the chapter, said a woman is chosen each year who has overcome obstacles to achieve her success. Community involvement is also a factor.

Billie Dragoo, who owns local health care staffing firm RepuCare, said Miller has become a visible mentor to others in NAWBO since winning the award.

"She's a big supporter of other women," Dragoo said.

Miller said she has been particularly drawn to encourage women through Dress for Success, an organization that helps women struggling to break into the professional world. Dress for Success provides counseling and donated business attire to women who are new to that environment. Miller has contributed both time and clothing.

She also formed Ladies Professional Partnership Alliance in 2008 to help fellow professional women strengthen common bonds. The group, which Miller has kept small at 25 members, meets two or three times a year "not to network," but to support one another and the community, she said. The women have worked together on a Habitat for Humanity home-building project and collected, packed and shipped supplies to Haitian earthquake victims.

Miller's drive to build support in the workplace, among colleagues and in the community is an offshoot of the attitude she chose when left alone as a young mother more than 35 years ago.

"When dealt a bad hand," she said, "I decided to come up swinging. … It wasn't going to hold me down."

She threw herself into making a good life for her children, and she thrives now on delivering the best service possible for her clients—from navigating regulatory waters to watching a crane hoist a shiny new moniker up a brick façade.

"It's just a sign," she said, "but it's building someone's future."•