The owner of a new manufacturing plant in Lebanon expects it to become part of a $150 million business built around foods that squirt.
Skjodt-Barrett Contract Packaging, headquartered in Toronto, opened its first U.S. plant here to meet demand from major consumer brands for baby food and fruit snacks in flexible pouches. Unlike pouch packages already on the market, those filled by Skjodt-Barrett are topped with a spout and recloseable cap. The industry calls it a "spouted pouch."
That one twist in packaging has driven the company's Canadian operations from 70 employees to 300 and prompted the U.S. expansion.
"It's something that changed the whole face of the company," owner and President Dan Skjodt said.
Skjodt-Barrett's startup crew of 25 was preparing in recent days for the first production run out of a 214,000-square-foot building in the Lebanon Business Park. The company expects to employ 120 people in Lebanon in the next six months and 250 by the end of 2013.
With the addition of this plant, the company will be able to crank out 300 million spouted pouches a year, Skjodt said.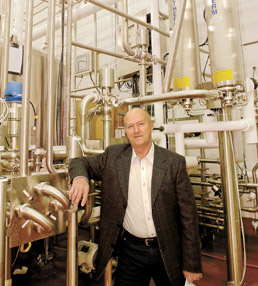 Skjodt-Barrett President Dan Skjodt expects his company to crank out 300 million pouches of squeezable food by the end of 2012. (IBJ Photo/ Perry Reichanadter)
He declined to disclose the company's revenue, but at a wholesale cost of 50 cents to 65 cents apiece, 300 million pouches would represent a roughly $150 million business.
The nearest competitor has a fraction of Skjodt-Barrett's capacity, Skjodt said, so his company could be the largest manufacturer of spouted-pouch foods in the world by the end of 2012.
"We're pretty close to it now," he said.
Such leaps in growth are unusual in food manufacturing, which tends to keep pace with the total population, no more and no less, regardless of what's happening in the economy, said Christopher Shanahan, global program manager for food and beverage at Frost & Sullivan, a market research and consulting firm.
"The food business is really a game of capturing market share from someone else," Shanahan said. So the industry constantly introduces new claims about health benefits or tweaks packaging to create a competitive edge, he said.
Glass and metal containers are losing market share to flexible packaging, which touts its environmental benefits, Shanahan said. Pouch makers claim they use less material, and they take up less space on trucks, so they use less fuel.
For companies that market baby food, getting rid of glass—and its potential safety hazard—is another incentive to switch to pouches, said Sue Finkam, human resources and administration manager at Skjodt-Barrett.
So far, spouted-pouch foods are marketed to health-conscious parents who want convenience, too. Starbucks, for example, sells a 3-1/2-ounce pouch of pureed mango, banana and orange from Peter Rabbit Organics for $1.95.
"The squeezy pouch makes your life easier: there's no need for a spoon, no risk of breaking glass or spilling food in your child's lunchbox, and you can reseal it for finishing later," the package says.
Skjodt and Paul Barrett, who heads up product research in Toronto, started Skjodt-Barrett Foods in 1985 to make a line of jams and pie fillings that a big U.S. company had discontinued in Canada.
Their offerings evolved to include marinades and toppings for baked goods, which major brands pack into kits. Skjodt ventured into spouted pouches after buying out a businessman who had introduced the concept in North America, but had trouble keeping up with demand.
Skjodt, 58, is the older brother of Charlie and Paul Skjodt, two former Indianapolis Checkers hockey players who put down roots in the area 25 years ago.
"It's like a second home, I guess, for me," he said.
The company is making a roughly $25 million capital investment in the building it purchased from MI Windows and Doors, which closed its local window-fabricating operation in 2008. Most of that investment went toward equipment and the creation of a sterile environment within a portion of the building.
Skjodt-Barrett could get as much as $1.6 million in performance-based tax credits and $275,000 in training grants from the state, and it's eligible for a 10-year tax abatement.
Skjodt-Barrett is a much-needed addition to Boone County's small manufacturing base, said Dax Norton, executive director of the Boone County Economic Development Corp.
Some of the county's biggest economic-development gains have been the Amazon.com and Medco distribution centers in Allpoints at Anson.
"Logistics are very good to us, but there's been a desire by elected officials to attract more manufacturing," Norton said.
Food processing is one manufacturing sector that continued to generate leads after the economy took a dive in 2008, he said.•
Please enable JavaScript to view this content.