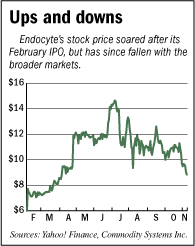 With Endocyte Inc. months away from applying for market approval for its first drug, the West Lafayette-based company is laying plans to build its sales and marketing operations in Indianapolis.
Endocyte opened a small office near the Pyramids in early 2009 and now employs 12 people there, mostly to oversee its far-flung clinical trials. It expects to add three or four more commercial executives there over the next year and a half as it anticipates approval of its ovarian cancer medication in Europe.
More significant growth of the Indianapolis operation would come if Endocyte were to win U.S. approval for its medicine, but that's not likely until 2014, according to Wall Street analysts.
Endocyte's corporate headquarters and research laboratories will remain in West Lafayette and will continue to grow, said Chief Financial Officer Mike Sherman. But Endocyte figures there's a greater supply of professionals in Indianapolis who have experience selling and marketing health care products around the world.
 
Ellis
"We have a great talent pool, between the history of Guidant and Lilly, and these smaller companies around town," said Sherman, who previously worked both for Indianapolis-based drugmaker Eli Lilly and Co. and the former medical-device maker Guidant Corp.
That's music to the ears of David Johnson, CEO of Indianapolis-based BioCrossroads, which has worked for nearly a decade to tap the skilled professionals in such health care companies as Cook Medical Inc., Hill-Rom Holdings Inc. and Roche Diagnostics Corp.—as well as at Indiana and Purdue universities—to build up a cluster of life sciences companies here.
"We've got a critical mass of people here, who have the scientific and the regulatory background to be a part of building and working in … life sciences companies," Johnson said. "Our goal is to keep as many of them here, and as engaged, as possible."
Endocyte CEO Ron Ellis was a manager at Hill-Rom, which is based in Batesville, before he helped launch the company in 1995.
Endocyte is developing a series of drugs that attach highly potent cancer-killing agents to molecules of folic acid, a substance many cancerous cells consume hungrily, but healthy cells do not.
The combination, which is based on research by Purdue chemist Philip Low, promises to produce more effective chemotherapy drugs that don't have the side effects of traditional chemotherapy.
Endocyte's leading drug, called EC145, would treat ovarian cancer that has proved resistant to treatment with standard platinum-based chemotherapy drugs. Endocyte is also seeking approval for an imaging agent, called EC20, that will light up under a CT scan if the patient has tumors that will avidly absorb folic acid.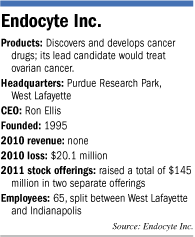 Christopher Raymond, a pharmaceutical analyst at Robert W. Baird & Co., thinks EC145 could achieve worldwide sales of $640 million by 2017. And he likes the fact that Endocyte is using folic acid to develop treatments for other cancers and even inflammatory diseases.
"EC145 is just the first of what we think could be numerous novel therapies born of ECYT's proprietary drug [technology]," wrote Raymond, referring to Endocyte by its ticker symbol, in an Aug. 31 note.
While U.S. regulators told Endocyte they wanted to see data from a large Phase 3 clinical trial of EC145, European regulators encouraged Endocyte to submit the drug for approval using only results from a smaller Phase 2 trial it already completed.
That's a good sign, and analysts expect EC145 could be approved in Europe in the first half of 2013. That's why Endocyte is now thinking about building up a commercial team, which would work on marketing, sales and negotiating reimbursement rates with health plans.
Endocyte is considering a myriad of options. It could build its own teams, which according to Sherman would likely require 75 to 100 people, plus some support personnel, to cover the five largest markets in Europe: France, Germany, Italy, Spain and the United Kingdom.
Endocyte would need a similar-size sales team and roughly the same amount of people to promote EC 145 in the United States, Sherman said.
But it could also contract with a series of pharmaceutical distributors to push EC145 in Europe, or it could form a partnership with a large pharmaceutical company.
"There's so many different options," Ellis said. "It's exciting to be able to get, hopefully, close. It's also exciting to build an organization."•
__________
Greg Andrews' Behind the News column will return next week.
Please enable JavaScript to view this content.