"You can't make Peruvian food out of Mexican ingredients."

That's what I heard the owner of Mama Irma Restaurant (1058 Virginia Ave., 423-2421) declare while I was falling in love with a plate of Tallarin con Huancaina at her new Fountain Square eatery. And while I'm no expert on South American cuisine—there are too few opportunities in Indy to sample it done right—I could taste exactly what she meant.

I'll get to my favorite dish in a minute. Let's start with the Causa Rellena ($6) and the Papa Rellena ($5.50) appetizers. Each had the size and shape of a baked potato, the consistency of mashed potatoes, and the ability to incite greed among sharing lunch partners. The Causa Rellena was filled but not overstuffed with veggies, chicken and/or tuna salad. The latter had a finely ground beef peccadillo at its core.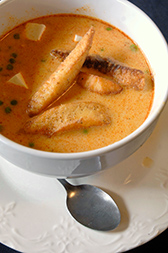 Chupe de Camarones–a seafood bisque with big pieces of fish–is just one of many highlights of a Mama Irma meal. (IBJ Photo/ Perry Reichanadter)
The kitchen happily split—without an upcharge—a massive bowl of Chupe de Camarones ($12.50), a lovingly made pool of shrimp, Peruvian corn (sliced from but still surrounding a wedge of cob) and fall-off-the-fork fish. The menu boldly states, "You will love this soup." It was right.

I'll admit that my first look at the aforementioned Tallarin con Huancaina ($10.50) prepared me for what I thought would be the meal's first disappointment. What looked like a tenderloin-sized slab of thin steak awkwardly topping a plate of spaghetti turned out to be a highlight among highlights—tender, flavorful meat mixed with perfectly cooked pasta and a light but influential Huancaina sauce. In an American culture that tends to over-cheese just about everything, this was a refreshing reminder of what can be pulled off with restraint, care and fresh ingredients.

When a meal is this fulfilling, house-made dessert is a must even when there seems to be no room. Somehow, though, we found space for Crema Volteada ($3.75), a slice of upside-down custard heaven, and Postre Mama Irma ($4.25), an equally fine upside-down chocolate cake with custard and caramel that offered little resistance to the forks slicing through it. The message of this delicious duo: While Mama Irma doesn't market itself as a dessert spot, it's worth a stop even if you've had your main meal somewhere else.•

—Lou Harry

__________

Second in a month-long series of reviews of new ethnic eateries.