They all laughed at Christopher Columbus
When he said the world was round
They all laughed when Edison recorded sound
They all laughed at Wilbur and his brother
When they said that man could fly
They told Marconi
Wireless was a phony
It's the same old cry
—Ira Gershwin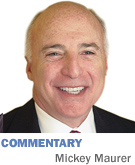 Bob Yanagihara flew into town from sunny California the other day with more baggage than Elizabeth Taylor. From an overgrown field in northwest Indianapolis—the purported future Indiana headquarters of his fledgling company Litebox Inc.—Yanagihara joined Mayor Greg Ballard and Gov. Mitch Daniels in an announcement of more than 1,000 jobs that he expects to create.
The Indianapolis Star and some pundits decried the event as either politically motivated or evidence that our leaders were duped. The reasoning goes that the announcement was ill-timed just before the mayoral election and if Litebox had been vetted by state and local authorities, they would not have promised incentives upon learning that Yanagihara left a trail of tax liens, at least one disgruntled investor and other evidence of failed business ventures. I disagree on both premises.
Job announcements of this sort should have no political ramifications to those who understand this process. There is no measurable downside to offering state and local incentives to Litebox. Most economic development programs are crafted in such a way that no benefits are paid unless promises are kept. No jobs, no money. That's the way it was when I was Secretary of Commerce and that's the way it is today. It's a fail-safe operation with little downside risk.
Gov. Daniels gets it. He appeared perturbed and undeterred by recent negative press when he said, "We are going to go out and try to find jobs for the state anywhere we can. We don't risk a penny, ever. If it works, all the upside—if it doesn't work, no downside. And if we become the kind of state that says we are not interested in people who try something different, we will permanently be a state with fewer jobs than we ought to have had."
Alexander L. Cappello, chairman of the board at investment bank Cappello Corp., believes Yanagihara is a good bet—a bet that his company has made. Cappello makes a lot of good bets. He heads a global merchant bank whose principals have conducted more than $100 billion in transactions, including California Republic Bank, Geothermal Resources International and the Cheesecake Factory. He is a former member of the board of trustees of University of Southern California and is an active member of the World Presidents Organization.
Cappello has known Yanagihara for 15 years and said that he is a "brilliant, creative and lovable entrepreneur—a real nice guy." He said Litebox is a new company—new technology, new market, new customers—and there is a big demand for the product: trucks outfitted with giant video screens that workers will manufacture as fast as they can. Cappello invested in Litebox, agreed to act as its board chairman, and committed to support Yanagihara with a strong CFO, logistics experts and other assistance the seasoned capitalist thinks Yanagihara will need.
Poor track record aside, can Yanagihara make it with Litebox? Absolutely. Would I invest any money in his company? Hell, no—not a farthing. But that's not the point. If the government had to make a bet on the success or failure of every entrepreneur who has an idea and wants to create jobs in Indiana, we wouldn't have nearly the triumphs of job creation that we've enjoyed in Indiana the last few years.
It is unfair to condemn the mayor, the governor and our economic development officials for jobs that eventually do not materialize because the penalty for this failure is near zero. Instead, let's welcome these announcements and applaud our officials for their hard work.•
__________
Maurer is a shareholder in IBJ Corp., which owns Indianapolis Business Journal. His column appears every other week. To comment on this column, send e-mail to mmaurer@ibj.com.
Please enable JavaScript to view this content.