Technology entrepreneurs might want to heed a little advice from one of the city's fastest growing such firms, Slingshot SEO.
Focus on what you do best and get to know your partners' strengths and weaknesses, Kevin Bailey, a co-founder of Slingshot SEO, told attendees of the recent TechPoint summit, this month.
At one point, the search engine optimization firm was taking off on too many tangents, including an e-commerce unit, he said.
"We were kind of a jack of all trades, [but] we became mediocre at a lot of things," Bailey said.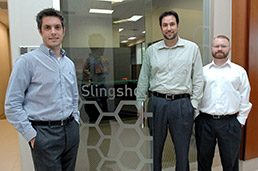 Slingshot SEO grew quickly because co-founders Kevin Bailey, Aaron Aders and Jeremy Dearringer knew one another's strengths and weaknesses. (IBJ File Photo)
"It was really when we got focused [on SEO] … we took off," Bailey said.
Bailey and co-founders Aaron Aders and Jeremy Dearringer self-funded Slingshot and didn't have much of a marketing budget until recently.
Slingshot also had the benefit of three co-founders who learned to work together. "We know each other's strengths and weaknesses. We can make decisions fairly quickly."
They also apparently knew enough about what they didn't know to hire a veteran entrepreneur to lead the company as CEO amid torrid growth. Joining Slingshot as its CEO this summer was Jay Love, who co-founded software firm eTapestry in Indianapolis in 1997 and later sold it for $25 million to Charleston, S.C.-based Blackbaud Inc.
Slingshot has about 75 employees and plans to add 114 workers by 2013. The state pledged up to $1.15 million in performance-based tax credits toward the expansion.
Please enable JavaScript to view this content.