The NFL is spending hundreds of thousands of dollars to build a posh 15,000-square-foot, two-story hospitality area inside Union Station's Grand Hall for this year's Super Bowl.
The ski-lodge-themed facility will house the league's newest corporate hospitality offering, a perk intended for its best corporate partners, former players and coaches, and other high-rollers.

NFL officials were in town Nov. 15 and 16 making final plans for the luxurious facility billed as NFL House. It's an effort the NFL is rolling out in Indianapolis in part due to concerns about the city's lack of downtown corporate entertaining areas, but it's a concept the league hopes to replicate at future Super Bowls.
Sources close to the league said NFL House is in part a response to hospitality troubles that scarred the 2011 Super Bowl in Dallas, including complaints from some of the league's top corporate partners about how they were treated on their way into the annual Super Bowl Tailgate pre-game party. Some waited hours to get in.
NFL officials at one time considered putting NFL House in the multi-story building that formerly housed Jillian's restaurant at Georgia and Meridian streets, but they turned to Union Station when Jillian's had financial difficulties.
NFL House will feature a giant central room with a massive fireplace, 22 large flat-screen televisions, two large dining areas with food and drink flowing almost around the clock, and a game room and meeting areas.
The venue will host talks by former and current NFL players and coaches, music provided by celebrity DJs, live bands and other musical acts, celebrity chef appearances, wine tastings and other events still being planned.
NFL House will host an exclusive event Feb. 1 and have its larger opening Feb. 2. It will remain open through Super Bowl Sunday, Feb. 5. Its hours will be 9 a.m. to 3 a.m. NFL officials said the hospitality area can accommodate up to 800 people a day.
The local Super Bowl Host Committee, along with the Indianapolis Convention and Visitors Association, will have some access to NFL House, but most local residents and businesses won't likely get a peek inside.
"With something like this, it's all about exclusivity," said Robert Tuchman, whose New York-based company, Skylight Entertainment, has handled corporate events, parties and entertainment at scores of Super Bowls. "That's a big part of the draw. And as the league becomes a bigger business, there's an increasing need for the NFL to take care of its biggest and best partners."
Some of the league's best corporate partners—those from the media, sponsorship and licensing worlds—along with team owners and some retired players, will get complimentary access, while others will be offered a chance to buy their way in for $400 a day or $1,050 for a three-day pass.
Frank Supovitz, NFL senior vice president of events, said the exclusive invitation list is still being crafted and no passes to NFL House have yet been offered.
"We're providing not just a game, but an experience, so it's about how we make the experience better to a number of constituencies," Supovitz said. "We wanted to make our business partners feel better taken care of."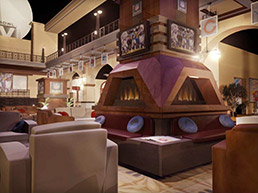 This is the first year for NFL House, but league officials are already considering replicating the venue at the 2013 and 2014 Super Bowls in New Orleans and New York. (Rendering Courtesy SportsMark Management Group)
Supovitz said NFL House is designed to supplement, not replace, the league's other hospitality endeavors and the hospitality offerings many NFL business partners provide their clients during Super Bowl week.
The Crown Plaza Hotel will handle much of the catering—with food ranging from high-end fare to more casual snacks and drinks. Inside NFL House, Indianapolis-based MainGate Inc. will run a 1,000-square-foot, all-glass, high-end Super Bowl store that will feature such wares as NFL-themed crystal vases, leather accessories and other exclusive items.
Each day will have a themed menu, and the Crown Plaza is bringing in two chefs to bolster its current staff for Super Bowl week, said Doug Allison, the hotel's general manager.
"I've been a hotel general manager for 35 years and this is one of the most exciting things I've been involved in," Allison said. "I've seen the plans and drawings, and this is going to be absolutely unreal."
"The whole look and feel of this place will be very high-end, yet comfortable," said Dave Moroknek, MainGate president. "We know a lot of the league's top-level clients will be coming into this facility, so this is a great opportunity for us."
Moroknek, whose company handles merchandising for several NFL and NBA teams, said the bidding to run the NFL House store was intense. MainGate will pay the NFL a royalty based on sales, Moroknek said.
"It brought out competitors nationwide, so we're very excited about this," he said.
The NFL is renting the space from Crown Plaza Hotel, which has a long-term lease with the city to operate the venue. Sources close to the league said the NFL will pay $1.5 million to rent and build out the space and operate NFL House for five days.
California-based SportsMark Management Group will build most of the facility off-site. It will take only a matter of days for SportsMark to "drop in" NFL House at Union Station, said Mary Pat Augenthaler, NFL vice president of events.
While the NFL has never taken on this type of project before, SportsMark has done similar work at the Olympics and World Cup soccer events, Augenthaler said.
"The pre-build is already going on," Augenthaler said. "The drop-in at Union Station will begin Jan. 29."
All those hundreds of thousands of dollars in improvements to Union Station will be "taken away," Augenthaler said, with the possible exception of a couple of structural enhancements to the building's interior.
"We're still negotiating on that," she added.
Despite the myriad activities going on inside NFL House, league officials emphasized that the venue would be a place to escape some of the chaos surrounding the Super Bowl.
"What we're trying to create with the NFL is an oasis of calm during an otherwise chaotic Super Bowl weekend," said SportsMark President Keith Bruce.•
Please enable JavaScript to view this content.