When Dr. Joseph Tector helped launch Indiana University Health's multi-visceral transplant program in 2003, the network's chief of transplantation did so for one reason—"to help people with no options," he said.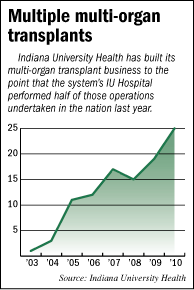 The number of the procedures the hospital has performed has grown from just one in 2003 to 25 last year—the most of any hospital in the country.
Yet the number represents just 5 percent of all organ transplants conducted by IU Health. Altogether, the hospital performed 500 organ transplants in 2010, ranking it fourth in the nation.
As just one of a half-dozen hospitals that do multi-organ transplants, IU Health has accumulated a certain amount of prestige that transcends profits.
"It may not necessarily represent a money-maker, but they do have the capacity to have a halo effect," said Dr. Alan Langnas, chief of transplantation at the University of Nebraska Medical Center. "If you can do those, you can do other stuff, as well."
Multi-visceral transplants are not highly profitable for a network the size of IU Health, whose flagship locations in the Indianapolis area include Methodist and University hospitals, in addition to Riley Hospital for Children.
The surgeries that can require six to 12 hours are complicated, however. Multi-visceral transplants involve removing several abdominal organs at the same time and replacing them with a healthy set from a single donor.
To describe the procedure to patients, IU Health transplant surgeon Dr. Rodrigo Vianna uses a car-repair analogy: "Replace one part [organ] at a time and you could still have problems. But by replacing the entire engine block [all abdominal organs], you can better ensure the problem will be fixed."
Most of the procedures involve three to five organs—the liver, pancreas, small intestine, stomach and, most recently, the colon. Candidates for the transplant suffer from ailments such as Crohn's disease or short-bowel syndrome, which causes liver disease. Patients with slow-growing tumors in the pancreas also can benefit.
For IU Health, and perhaps specifically for IU Hospital, where the transplants are performed, the program brings a certain amount of prestige.
"We get referrals from all over the country and sometimes from all over the world," Tector said. "Clearly, people look at this hospital in a very positive light because of what we can do for these people."
Bob Cimasi, president of St. Louis-based Health Capital Consultants, concurred, noting a strategy of concentrating surgeries around a specialty has proven to pay more than financial dividends for hospitals.
"It may have some monetary benefits, but it also has benefits to surgeons, to have a significant volume of these [multi-visceral transplants]," Cimasi said. "It becomes a center that not only attracts talent but regional care centers that will send patients."
The team at IU Health that performs the procedures consists of Tector and Vianna, as well as Drs. Richard Mangus and Shekhar Kubal.
Nearly 40 intestinal-transplant programs exist in the United States, but only six, including IU Health, have done more than 10 multi-organ surgeries. In fact, of the 54 surgeries performed nationally last year, nearly half, 25, were done at IU Health.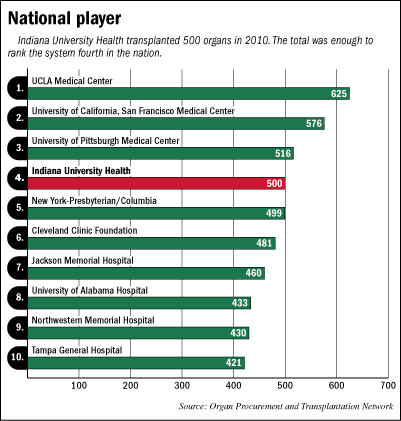 Other hospitals performing the procedures include the University of Nebraska Medical Center, where Langnas heads the transplantation program; and Georgetown University Hospital, University of Miami Hospital, University of Pittsburgh Medical Center and UCLA Medical Center.
"This is a highly esteemed organization, Cimasi said. "These guys have got their act together."
The first multi-visceral procedure was performed in 1983 on a 6-year-old girl who developed short-gut syndrome after a swimming pool accident and was terminally ill from liver failure. The child died of hemorrhage immediately after the procedure.
In 1989, two patients survived beyond the immediate post-operative period, though both died within about six months.
Tector witnessed his first multi-organ transplantation in 1989 while on staff at the University of Pittsburgh Medical Center.
The national one-year survival rate today is 75 percent, though IU Health's rate is roughly 85 percent, Tector said.
On top of that, IU Health's wait time for organs is just 40 days, compared to the national average of six months, according to the Organ Procurement and Transplantation Network.
Tector attributed the shorter wait time to a willingness by doctors to assess organs anywhere, anytime.
You gotta go out and look," he said. "Sometimes it's hard; it's Christmas, your wife's birthday, your anniversary. We'll go all over the country."•
Please enable JavaScript to view this content.