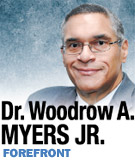 What if I told you that nine out of 10 of America's health care leaders believe continued implementation of the Affordable Care Act is important? And three-quarters think the growth in national health care spending can be safely lowered?
And what if I told you that large majorities of Americans supported its expansions in coverage, its market reforms and its greater emphasis on prevention? Could this be the same legislation that every Republican candidate for president (including the former governor of Massachusetts, where he championed legislation on which the ACA was modeled) has vowed, if elected, to repeal?
It has been the law of the land for just 20 months and it has already helped Hoosiers in many ways:
• Nearly all the 1 million Medicare beneficiaries in Indiana can now receive mammograms and colonoscopies and an annual wellness visit with their doctor without paying co-insurance or deductibles.
• The 3.8 million Hoosiers with private insurance are free from worrying about lifetime dollar limits on coverage.
• About 19,000 young adults in Indiana can now stay on their parents' plan until their 26th birthday.
• Insurance companies are now prohibited from denying coverage to the 376,000 children in Indiana with pre-existing conditions.
And this is the law that every Republican candidate has vowed, if elected, to repeal?
Polls are showing increasing support for the law as people begin to separate truth from deception. About 250 Indiana employers have enrolled in its Early Retiree Reinsurance Program, and Indiana employers have already received $16 million in reimbursement. The Early Retiree Reinsurance Program provides much-needed financial relief to businesses, schools, unions, local governments and not-for-profits to help retirees have quality, affordable health coverage.
As a result of the new law, another $16 million has been invested in community health centers in Indiana, where they concentrate their efforts in medically underserved areas. So far, 35 Indiana companies have received over $10 million to produce new and cost-saving medical therapies to advance the goal of curing cancer within 30 years.
Payments to rural Indiana health care providers to help them continue to serve their communities have been increased. Many seniors will now receive a 50-percent discount when buying Medicare Part-D-covered brand-name prescription drugs as a result of the new law, and over the next 10 years, seniors will receive additional savings on brand-name and generic drugs until the current gap in coverage for seniors is closed in 2020.
In a very few weeks, the law will begin providing incentives for physicians to join together to form "accountable care organizations" where doctors can better coordinate patient care and focus on quality, prevention and the reduction of unnecessary hospital admissions. If these ACOs provide high-quality care and reduce costs, they can keep some of the money they have helped save, providing new incentives for physicians to provide all the care that is needed, but only the care that is needed.
And later next year, the law will standardize billing practices and implement new rules for the secure, confidential, electronic exchange of health information. Electronic health records have been proven to cut costs, reduce medical errors and, most important, improve the quality of care.
The Supreme Court recently decided to rule on one aspect of the law—whether individuals without an employer-sponsored or government health plan should be compelled to buy health insurance, as we are to buy automobile insurance. The best argument critics can make is that a government that can mandate health insurance might then choose to force us to do other things considered good for us (like we could be ordered to eat our broccoli, or other fruits and vegetables).
So, let me get this straight; all the current challengers for the Republican presidential nomination say they will gut the ACA. I don't believe them. It would be insane. But not to worry, insanity and other pre-existing conditions will be covered.•
__________
Myers is a former chief medical officer for WellPoint Inc. and served as health commissioner for Indiana and New York City. Send comments on this column to ibjedit@ibj.com.
Please enable JavaScript to view this content.