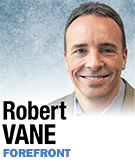 If 2007 was a shocker, 2011 was a reminder: Greg Ballard is mayor of Indianapolis.

Want to play a drinking game that is sure to get results? Get a bunch of politicos from both parties in a room and ask them if they thought Ballard was going to beat Bart Peterson. My bet is, before too long, you'll be stumbling around town like Otis Campbell.

In the intervening four years, however, Ballard has strung together an impressive list of accomplishments. Crime is down, over $400 million is being spent to upgrade our infrastructure, we are holding our own in a pungent national economy, we are months from hosting the Super Bowl, and the mayor is signaling a willingness to support a bold move on mass transit.

Which leads us to the recently decided mayoral election. As a referendum on the incumbent, in a county where Democrats outnumber Republicans by 10 percentage points, it is fair to say the election resulted in a personal mandate for Greg Ballard.

A mandate for what? That's for a different column. Let's instead dissect this political triumph by getting the thoughts of Jennifer Hallowell, the supremely talented political strategist who guided the mayor's campaign.

Jennifer has a political resume that is nearly unrivaled among Hoosiers. She began her career working for David McIntosh, then guided two winning campaigns for Carl Brizzi. In between these victories, she was director of political strategy on the seminal "My Man Mitch" campaign.

In the 2008 presidential election cycle, she worked for Rudy Giuliani and then John McCain.­­­­

For many reasons, though, this election proved to be her steepest political uphill climb.

"The sheer Democrat advantage in Marion County was certainly our biggest challenge," Hallowell said. "While Democrats would only need to turn out a fraction of their voters, we had to turn out every Republican possible and win a significant majority of independent voters."

Jennifer credits the efforts of hard-working Ballard Campaign Manager Megan Robertson in running what she calls an "incredible field team." Robertson is now working for rising GOP star Luke Messer, assisting in his bid to be the next congressman from the 6th District.

The Marion County Republican Party, too, under the leadership of the exceptionally sharp Kyle Walker, made tens of thousands of calls and knocked on thousands of doors.

According to Jennifer, there are several elements of a winning campaign: organization, money and effective messaging, to name a few. When asked for a list, however, she put "good candidate" as the first item—and she believes she had one in Greg Ballard.

"Mayor Ballard is everywhere," Hallowell said. "Voters know Mayor Ballard is a genuinely good person who is working hard to do the right things for Indianapolis."

"It's no exaggeration to say, if there's a gathering of 10 or more people anywhere in the city, there's a chance the mayor will show up," she said. "The good will and personal connection Mayor Ballard builds with people at events throughout the city is why voters rejected the most offensive attacks the Democrats launched during the campaign."

Jennifer calls this one of her most rewarding victories. Certainly, there were many people (including yours truly) who felt the election was slipping away from Mayor Ballard. Jennifer, however, never lost faith in her team or her candidate.

"It is safe to say most people thought he could not win again because of the Democrat advantage in the city," Hallowell said. "There were plenty of doubters along the way. Clearly, the Democrats underestimated the mayor. I never had that gut-wrenching feeling we would lose, but I understand Marion County enough to know we could do everything right and still lose."

But they didn't lose. Combining Mayor Ballard's unique appeal to voters with Jennifer's extraordinary political skill resulted in a win that was no accident, but rather a well-deserved affirmation of what can happen when you say what you're going to do, and then do it. •

__________

Vane, a U.S. Army veteran, has worked for elected Republican officials including Indianapolis Mayor Greg Ballard, and currently owns the public relations firm Veteran Strategies. Send comments on this column to ibjedit@ibj.com.