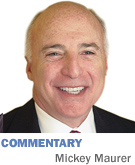 Almost a half century ago, TWA stewardess Punky Iwanowsky heralded the arrival of a flight landing at Weir Cook Airport with the following indictment: "Welcome to Indianapolis. Please set your clocks back 10 years." Unfortunately for her, newly elected Mayor Richard Lugar was among the passengers on that plane. Punky, despite being duly chastised, was not disavowed of her opinion. I wonder what she would say today?
Indianapolis has it all—major league teams, attractive convention facilities including a magnificent new hotel, a resurgent downtown boasting a shopping mall, the cultural trail, and the world's largest combination zoo and botanical gardens. Add an award-winning symphony orchestra and a children's museum without peer. Yes, Indianapolis has it all—except a comprehensive smoke-free environment.
Our city, no longer "Naptown," is still years behind most of America in protecting its working populace from the ravages of second- and third-hand smoke. During the Big Ten basketball tournament last year, Indianapolis was shamed by fans who were assigned the Slippery Noodle and other bars as their rally center.
Some of them branded Indianapolis as the "ashtray of the Midwest." And now the Super Bowl has bestowed a sense of emergency—an opportunity. No one, especially city leaders, wants to be embarrassed again by the thousands of football fans who will frequent our watering holes, but in order to achieve a comprehensive ordinance, smoke-free advocates are threatened with a "mayor's ransom" —an exemption for veteran's halls.
Mayor Greg Ballard—who three years ago appeared at a private Republican caucus and urged City-County Council members to vote no on a smoking-ban ordinance to save him from going public with his opinion and having to issue a veto (despite the fact that he pledged support for smoke-free workplaces during his initial election campaign)—is now willing to sign a bill as long as it includes this exemption.
Mayor, why veteran's halls? Does the fact that some veterans may have saved lives overseas give them the right to kill people here at home? Do servers at veteran's halls not have the rights others have to work in a smoke-free environment? Aren't your Marine buddies man enough to get up off their bar stools and go outside if they want to have a smoke? Don't you and your comrades-in-arms understand that secondhand smoke is a major health risk—deadly even when inhaled at a veteran's hall?
Mayor, read the smoke signals. More than half the people in our country now live under a comprehensive smoke-free law. Today you cannot even smoke in an Irish pub—veteran or no veteran. Don't be a "drag" on our progress.
Democratic councilwoman Angela Mansfield and Republican councilman Ben Hunter have been tireless advocates for a comprehensive smoking ban but have failed due to an obstinate majority of council Republicans led by the mayor's staunch opposition. The newly constituted council will have a Democratic majority in January and finally enough votes to reward Mansfield and Hunter for years of struggling with this issue.
Angela and Ben, don't falter now and accept exemptions on the threat of the mayor's veto. Call that bluff. The mayor cannot possibly be so stubborn and crass as to subject our city to further embarrassment and shame by exposing our Super Bowl guests to bars full of toxic chemicals just to satisfy a few dozen veterans who twisted his arm and bent his ear years ago when he was first running for mayor.
What would Punky say today—or for that matter the fans considering return visits for pleasure or economic development? Despite the progress Indianapolis has made, one bar visit—one whiff of ammonia, benzene, arsenic, lead, carbon monoxide and formaldehyde—will send them home coughing and commenting about the Indy time warp.
Let's set the clock forward comprehensively and once and for all for Punky, our visitors and our fellow citizens. Only this time, let's do it right.•
__________
Maurer is a shareholder in IBJ Corp., which owns Indianapolis Business Journal. His column appears every other week. To comment on this column, send e-mail to [email protected].
Please enable JavaScript to view this content.