Roughly two-thirds of area motorists are interested in buying a hybrid or electric vehicle—but gas would have to hit $5 to $6 a gallon to actually spur them into buying one, according to a survey of Indianapolis motorists that Ford Motor Co. released Tuesday.
It may be one reason Ford is avoiding the purpose-built-hybrid and plug-in car approach competitors such as Nissan, with its Leaf, and General Motors, with its Volt, have taken.
Ford's hybrid and plug-in electric vehicles being introduced in the months ahead will be versions of its existing gasoline vehicles, said Tom McCarthy, Ford Powertrain chief engineer.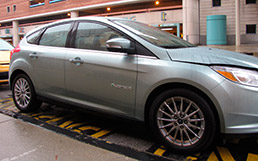 Ford's plug-in Focus uses essentially the same model style as its gas-powered version. (IBJ Photo)
McCarthy, and a smattering of local Ford dealers, were on hand Tuesday morning at the Indianapolis Marriott Downtown for a seminar co-sponsored by the Greater Indiana Clean Cities Coalition, which promotes alternative fuels.
Also on hand was a semitrailer full of Ford hybrid and electric cars, including a plug-in Ford Focus that went on sale this month for delivery in 2012. The lithium-ion battery powered car has a maximum range of 100 miles. Ford also says the car will have a faster-charging time than the Leaf.
McCarthy said using existing vehicles provides cost advantages, although he declined to talk about sticker prices. Auto industry experts say Ford would do well to undercut the plug-in electric Nissan Leaf, which starts at $35,200, if you can find one.
The federal government has been offering a tax credit of $7,500 on such vehicles, to effectively reduce their price.
By the end of 2012, Ford plans to have five new electrified vehicles on the market. Besides the electric Focus, and an electric version of its Transit Connect van, Ford plans to introduce its electric C-Max crossover, a gasoline-electric hybrid C-Max and a yet-to-be identified "next generation" hybrid.
The electric Focus that Ford brought to Indianapolis didn't look much different than a conventional model except for badges on the front doors and trunk lid that declared its electric power.
That contrasts to the Leaf, the Volt and the Toyota Prius, which by themselves have become status symbols in the green crowd.  McCarthy said he doesn't think the lack of differentiation will hurt Ford. Ultimately, "you really want to make it affordable for customers" to buy, he said.
"We've judged Indianapolis as one of the top 25 EV markets," added McCarthy, citing the region's efforts in rolling out electric-vehicle charging stations.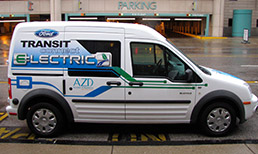 Ford already has introduced an electric version of its Transit Connect van. (IBJ Photo)
Ford hopes to boost consumer acceptance through a partnership with retailer Best Buy, where consumers will be able to purchase an at-home EV charging station for about $1,500. Under the arrangement, Best Buy will arrange for installation at the customer's home.
Ford isn't putting all its long-term fuel-conservation plans into electrification. McCarthy noted how the automaker has rolled out more efficient versions of its gasoline engines. Ford also is offering compressed natural gas, or CNG, versions of its vans and pickups.
Greater Indiana Clean Cities has been working with several commercial fleets in the state, which have converted to fuels ranging from propane to CNG.  Monarch Beverage, for example, recently added new CNG units to its fleet.
"The time is right, I think, with fuel prices and the technology that is available, [yet] there is no silver bullet" that fits all applications, said Kellie Walsh, executive director of Clean Cities.
Among other findings of Ford's survey:
— Fuel efficiency is the most important influencing factor in vehicle purchasing decisions.
— Roughly 80 percent of respondents surveyed are satisfied with their current fuel economy, but only 27 percent are "very satisfied."
— While 72 percent of motorists said an electric vehicle would fit their needs, 54 percent are not comfortable having a car with limited driving range as their primary means of transportation.
 
Please enable JavaScript to view this content.