The fanciest cellular phones, equipped with everything from Internet to MP3 capabilities, become more expensive with the rollout of every new model featuring ever more bells and whistles.

So it's no wonder Indianapolis-based wireless phone distributor Brightpoint Inc. is bolstering its logistics services to wireless carriers by fixing and refurbishing used cell phones.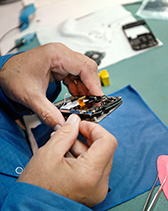 The repair operation has 130 employees and 250 contractors who could become full-time employees, as the company aims for 1,000 workers at full capacity. (IBJ Photo/ Perry Reichanadter)
"Cost and sophistication of the device give it more economic value," said J. Mark Howell, president of Brightpoint Americas. "If the prices move up, more and more mobile phones are within economic repair."

There's little chance a consumer who paid $49.99 for a mobile phone will fork over another $90 to repair it. But the odds increase on one costing $499, Howell maintained.

Brightpoint is attempting to take advantage of the burgeoning used-phone market by opening its returns center in September in 200,000 square feet of warehouse space in Plainfield.

The launch follows the company's $75.7 million acquisition in December 2010 of Pennsylvania-based Touchstone Wireless Repair and Logistics, and Brightpoint's subsequent decision in May to move Touchstone's Bristol, Tenn., repair operations to Hendricks County.

Brightpoint handled 98.8 million wireless devices last year for 24 customers.

But offering full repairs to complement phone testing and distribution may lead to more business for Brightpoint, said Juan Dieguez, the facility's director of operations, who arrived from Touchstone.

"What [Brightpoint] got from Touchstone was something that was very functional," he said. "Brightpoint acquired a name that has the same exceptional reputation as Brightpoint."

Chicago-based Zak's Investment Research, which follows Brightpoint, upgraded its recommendation in October on the company's stock to "outperform," based partly on the Touchstone acquisition.

"[Brightpoint] is integrating Touchstone's state-of-the art management and product recycling activities to offer a whole bunch of innovative supply-chain management systems in more than 25 countries," the report said.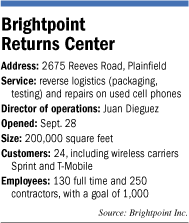 Brightpoint accepts all returns that arrive at its facility. A phone, for instance, might not have sold well, or maybe it is defective or the customer simply didn't like it.

Upon arrival, phones are divided into two camps: in and out of warranty. Most still under warranty are sent back to the equipment manufacturer while those out of warranty are scanned for repairs.

Brightpoint's testing helps verify that damage was not caused by user abuse, because manufacturers' warranties do not cover wounds that may have been caused by dropping a phone in water, for example.

Out-of-warranty devices mostly are resold by the wireless carriers as refurbished phones, or carriers will use them as replacements when problems arise with customers' regular phones.

At full capacity, the returns center will be able to receive 250,000 phones a week, and Brightpoint estimates that 20,000 of them will need repair.

"We view these [used ] devices as only becoming more valuable," Howell said.

Simpler repairs entail radio-frequency testing and possibly re-flashing a phone with newer software to ensure it works properly within a carrier's network .

Cell phones arriving at the center that are found to be faulty are categorized as a "level 2" or "level 3" repair, depending upon severity. A level 2 repair might require minor troubleshooting and soldering. A level 3 repair needs the attention of an employee with an electronics background, who may need to change out components, Dieguez said.

Brightpoint keeps an inventory of parts on site that are bar-coded by number to track which are in most demand.

Many of the repairs, however, involve defective touch screens, whose troubles simply are caused by dirty hands or pressing too hard, Dieguez said.

"The fancier they get, it adds to the complexity," he said. "Most people don't realize that."•