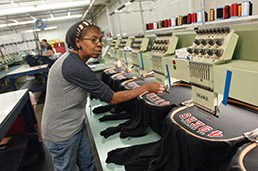 NFL work at the local Reebok plant has kept employees busy seven days a week. (IBJ Photo/Perry Reichanadter)
The Reebok-Adidas plant on the east side, faced with losing an estimated 60 percent of its business when its National Football League contract expires early next year, has done what no one would expect: Add employees.
The plant off Interstate 70 and Post Road has hired 300 workers in the last year—for a total of 1,400—and plant manager Blake Lundberg said he expects few changes to the plant's seven-day, around-the-clock work schedule even after the last NFL product goes out the door following the 2012 Super Bowl.
"The only problem I have right now is [employee] parking," Lundberg said. "We are having a spectacular year and we are at peak output. We're getting into some new things, so there's lots of work to do."
Reebok, which was acquired by Germany-based Adidas in 2006, has held the NFL's exclusive apparel deal since the 2002 season. The deal includes all the league's authentic and replica jerseys for players and fans, sideline apparel worn by coaches and others, and myriad products available in NFL pro shops, sporting goods stores and big retailers like Sears and Walmart.
The NFL work represents $350 million of Reebok-Adidas' $565 million in U.S. apparel revenue, said Kate McShane, an analyst for New York-based Citigroup, so replacing it will be "no small task."
Industry analysts estimate the local facility—the largest of Reebok-Adidas' three U.S. plants—generated at least $200 million in annual revenue from the NFL deal.
Lundberg, who wouldn't say precisely how much work the NFL contract represents for his plant, admits losing it is a significant hit. "But we're confident in our plan to move forward."
The local plant is beating the odds by landing new business and expanding work for existing clients.
It already had deals to provide uniforms and fan apparel for the National Basketball Association and National Hockey League and is upping its presence in the college market. It now makes uniforms and fan apparel for colleges large and small, from Notre Dame to Eastern Michigan.
Reebok-Adidas also has expanded into providing uniforms and fan apparel for high schools. Locally, for instance, it has an exclusive deal with football powerhouse Warren Central. And the company has become a larger player in soccer, where it has deals with Major League Soccer as well as youth soccer clubs, including the Carmel Dad's Club.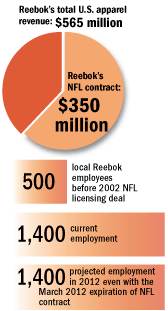 In addition, the company recently won an account to provide apparel for fitness company CrossFit Inc. and is churning out a new line of Adidas-branded fitness and casual wear.
Overall, Reebok-Adidas officials said their initiatives have boosted sales of non-NFL-licensed goods and apparel 30 percent in North America.
The diversification strategy started 16 months ago when Reebok-Adidas officials learned they would be replaced by Oregon-based Nike as the NFL uniform and apparel licensee and New York-based New Era Cap Co. as the league's cap provider.
Lundberg and his executive staff lobbied to have more work brought to Indianapolis, and the company's corporate officials in Boston and Germany realized it made sense to move the work here because of the plant's central location, the region's transportation infrastructure, and the company's already large investment in infrastructure and personnel here.
Competitive edge
Industry insiders aren't surprised Reebok-Adidas is tapping Indianapolis for so much work.
"The one thing you have to realize, that plant is the largest embroidery and silk-screening plant under one roof in North America," said Robert McGee, editor of Sporting Goods Intelligence, a Pennsylvania-based trade publication. "The level of expertise they have there is unmatched in the U.S., and it gives Adidas a real competitive advantage."
The Reebok-Adidas plant, known as the Sports Licensed Division of Adidas Group, covers 600,000 square feet. In 2008, Reebok-Adidas opened a 200,000-square-foot warehouse and distribution facility near Mount Comfort's airport to support the factory. That facility employs an additional 30 people.
In addition to Indianapolis, Adidas-Reebok has U.S. manufacturing plants in Massachusetts and Iowa.
Nike, Adidas-Reebok's primary competitor, has no U.S. manufacturing plants, and McGee said the large Indianapolis facility has helped Adidas-Reebok handle more seasonal and quick-turnaround items than companies that rely solely on foreign suppliers.

"Because of their central location and work force in Indianapolis, they can get stuff done, out the door and distributed quickly," McGee said. "That has helped them get work for things like championship jerseys and hats that have to be done very quickly or even seasonal items that change quarterly."
The NHL and NBA deals run through the 2016-2017 season and Reebok-Adidas officials are so confident that the other work coming through the plant is here to stay that they recently extended the lease on the local plant through 2018.
Industry sources said the high-profile work the local plant has done for the NFL over the last decade has allowed it to grow its reputation and win other contracts.
"I've been around Champion, Nike, Starter and others, and there's simply nobody better in the business in terms of team business and retail," Christopher Arena, NBA vice president of apparel and sporting goods, said about the Indianapolis operation.
From Logo 7 to Reebok-Adidas
The plant's transition appears to ensure the continuation of an operation that has deep roots in Indianapolis. The facility was founded in 1971 by Thomas Shine under the Logo 7 banner to manufacture sports apparel.
Shine remains with Reebok-Adidas today. Mall pioneers Herb and Mel Simon bought the operation in 1984, just after purchasing the Indiana Pacers. In 1992, when the Simons sold Logo 7 to Virginia-based Tultex Corp., the company employed about 500.
In 1997, as sales reached $205 million and employment at the plant grew to more than 900, the operation changed its name to Logo Athletic.
In 1998, a local group headed by Shine, the Simon brothers and the Indianapolis Motor Speedway bought the company back from Tultex. But just two years later, Logo Athletic declared bankruptcy during a free fall in the sporting apparel industry. In 2001, Reebok bought the operation for a fire-sale price of $13.8 million—$83 million less than it sold for three years earlier—and used the facility to produce much of its NFL-related merchandise.
The NFL took off and sports apparel rebounded, helping the plant grow. Adidas bought Reebok in 2006, bringing more resources to the plant. But that also precipitated a Reebok restructuring that led to the termination of 65 employees in 2009.
Rumors swirled last year that layoffs were coming to the local facility, as a result of the loss of the NFL deal and uncertainty in the licensing and apparel market.
But now Lundberg said the 300 executive and office jobs and 1,100 production positions look secure.
"This place exists because we have a good facility and a great group of employees that really knows the licensing industry," Lundberg said. "We're not going anywhere. We're committed to the city."•
Please enable JavaScript to view this content.