There are few things sadder than the signage of out-of-business restaurants. The longer the remnants stick around, the more the building and its environs take on the "loser" stigma. And the harder it is to recover.

Which is why, this month, I'm limiting my reviews to restaurants that have filled in where others failed or moved on. Ideally, they quickly wipe out the memory of past tenants.

Let's see how that plays out in practice.

First up, New Orleans on the Avenue (543 Indiana Ave., 632-4099), which is taking up the two-level digs of Zing, remembered for its sharing plates and terrible signage.

Our visit to the newcomer revealed a good-if-not-yet-as-exciting-as-it-could-be place. A plate of Fried Boudin Balls ($8.50), a trio of crispy sausage orbs served with barbecue sauce proved a promising start.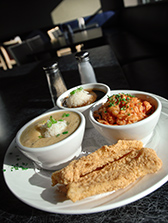 If you can't make up your mind, the Taste of New Orleans is the way to go. (IBJ Photo/ Perry Reichanadter)
In an effort to maximize my entrée sampling, I picked the Taste of New Orleans, a sampler steeply priced at $16.95. (If a full plate of each of the three items on the plate costs less, why should small cups of each cost more?) The Jambalaya featured rice, chicken, shrimp, and hot and smoked sausage packed with peppers and onions in a smoky tomato sauce. The chicken and sausage gumbo was meaty and dense and the étouffée (which I didn't realize until later was supposed to be a choice of shrimp or crawfish) took its flavor from the ingredients rather than excessive spicing.

My guest started with a bowl of the Seafood Gumbo ($12.50), in which the shrimp, crabmeat and crawfish weren't exactly plentiful in an otherwise flavorful roux stock. And the basic Fried Catfish Po-Boy ($12) cried out for cocktail or remoulade sauce. A little more room and we might have tried the Banana Foster Bread Pudding in Caramel Rum Sauce or the Dump Cake.

Free parking, albeit limited, is a plus for those looking for a short escape from downtown proper. Service was friendly and attentive. And the atmosphere was surprisingly low-key. I hope New Orleans on the Avenue will develop a bit more atmosphere as it evolves.

A bit farther west, near Indiana University Hospital, DJ's Hot Dog Co. (923 Indiana Ave., 423-8936) has moved into what used to be Hot Box Pizza (before it migrated downtown). Since this plaza already has more than its share of pizza providers, a decent dog hut would certainly be an upgrade.

D.J.'s does that a bit better. My visit included the signature 100 percent beef Chicago Dog ($3.79), buried but not lost in mustard, onion, bright neon relish, tomato, sport peppers, cucumbers, celery salt and an impossible-to-stay-balanced dill pickle.

Equally difficult to manage—and equally enjoyable—was an Atlanta Dog ($3.79) served with a soupy Cincy-style chili along with onions and shredded cheese. A regular combo, which includes a fountain drink and a smallish portion of crinkle-cut fries, adds $2.19 to the bill.

If you're not in a dog mood, there's more. D.J.'s also has Italian Beef sandwiches, burgers and Italian sausage.

Pluses beyond the food: D.J.'s is roomy, there's free wi-fi (well, sort-of: The guy at the counter advised me to connect to Marco's Pizza across the parking lot), and my table was cleaned off by an attentive staff member before I even got out the door.•

–Lou Harry

__________

First in a month-long series of visits to eateries that have recently moved into the digs of former eateries.