Honoree, Not-for-Profit
Times may be tough in health care, but you wouldn't know it to look at St. Vincent Health.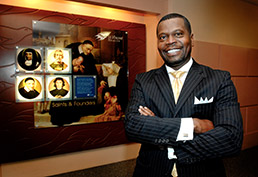 (IBJ Photo/ Perry Reichanadter)
The Indianapolis area's largest hospital system continues to expand internally and through acquisitions. The organization has 13,000 employees, revenue of $2.12 billion and operations in 47 counties. Marvin White, system vice president and CFO, has played a central role in that success.
"Thanks to Marvin White's financial discipline, St. Vincent Health was able to move forward with its capital projects while other health systems had to discontinue or postpone theirs," wrote Jon White, a St. Vincent spokesman, who nominated White for CFO of the Year.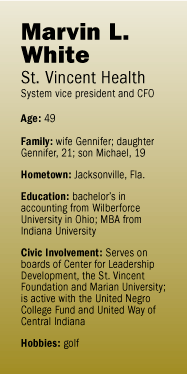 Marvin White has developed a three-pronged strategy to keep St. Vincent strong through the rough economy:
• Support patients. "We have a goal to heal them clinically but not harm them financially," White said.
He spearheaded a new patient billing plan two years ago after finding that many patients simply could not afford to pay their hospital bills on time. The new program extends payment periods for customers in need for up to six years, without fees or interest.
"We knew our patients were good Americans but were going through tough times," White said. "[The program] was a financial hit to the company, but it was the right thing to do."
• Expand the system. White has been actively involved in helping St. Vincent look for ways to partner with or acquire other hospitals and physician groups in central Indiana. Recent examples include the absorption of two local cardiology and cardiothoracic surgery practices—The Care Group and CorVasc MD—over the past 18 months.
St. Vincent also is growing internally. This fall it embarked on a $50 million expansion of its Medical Center Northeast, which will change its name to St. Vincent Fishers Hospital upon completion in 2013. The 40-bed facility will be staffed by 200 new employees. White provided much of the analysis necessary to secure project approval.
• Manage costs. White has taken a lead role in working with St. Vincent's parent, St. Louis-based Ascension Health, to centralize all back-office operations. For a year he spent a week every month in St. Louis helping to standardize policies and procedures and to design a new software platform to manage human resources, supply-chain, finance and accounting functions.
Many of those services will be handled by a new service center that Ascension opened in Indianapolis last summer, after a rigorous multi-state competition, in part thanks to heavy lobbying by White. The center is expected to employ 500 people.
White also shares his expertise with younger companies by serving on the boards of Indianapolis-based Advantage Health Solutions and Maryland-based Emergent BioSolutions, where he chairs the audit committee.
White joined St. Vincent in 2008 after working for some of the country's largest companies, including Indianapolis-based Eli Lilly and Co., Michigan-based General Motors Corp., California-based Hewlett-Packard Co. and the former Amoco Corp. But it is at St. Vincent where he feels most at home.
"In this role, it's pretty clear I'm having an impact. I help people have dignity in paying their bills. That's a good feeling."•
_____


Click here to return to the CFO of the Year landing page.


Please enable JavaScript to view this content.