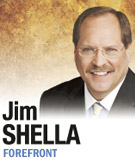 Greg Ballard will take the oath for his second term as mayor of Indianapolis on Jan. 1. Will it be his last? After all, there is no term limit. (Remember Hudnut Forever?)
There's a lot of speculation that Ballard won't endure another campaign. Of course, it's far too early for Ballard to address it. No smart politician would let it be known he's a lame duck in advance of the inauguration. And, yes, I did call him a smart politician.
One of the lessons of the campaign of 2011 is that Ballard's use of the phrase, "Politics really isn't my thing," was a smart political move. He first used it in a TV ad that was the best of the year. In it, Ballard appeared on camera. He was warm, human and, most of all, likeable.
I won't go so far as to call Ballard a good candidate, however. He was stiff, programmed and waited until all the ballots were counted before he displayed Hudnut-like enthusiasm in his acceptance speech. Where was that all fall? But I can no longer call him what I first called him on election night in 2007, the Accidental Mayor. He won this race fair and square.
Ballard proved a Republican can still win in Marion County, even in a municipal election. That's despite the fact that, according to the WISH-TV/Franklin College poll issued in the week before the election, Democrats have a 9-percentage-point advantage among self-identified voters. Democratic Party leaders knew Melina Kennedy was behind at the end of the race, but thought they could overcome the Ballard lead with a strong partisan turnout.
For the reasons why they couldn't, I would refer you back to our poll. It showed Ballard had an approval rating of 62 percent. Fifty-five percent of the voters felt Indianapolis is on the right track. Finally, he had a favorability rating of 65 percent, even higher than Mitch Daniels, who was at 64 percent.
State Democratic Chairman Dan Parker's pet theory on 2011 is that likeability was the most important factor in Indiana elections, not party labels. I would argue that the most likeable candidate for mayor won in Fort Wayne, Anderson, Muncie, Terre Haute and Evansville, as well as in Indianapolis.
It was Kennedy and the Democrats' job to paint a different picture. In the effort to make Ballard unlikeable, however, they went over the top suggesting that his administration engaged in practices that are unethical and possibly criminal in dealings with city contractors, and that Ballard was racist. They thought they had a game-changer when Ballard referred to unemployed African-Americans as a "difficult population." Most voters felt Ballard was a clumsy speaker with a good heart.
The poll indicated that 13 percent of Democrats planned to vote for Ballard while just 3 percent of Republicans planned to cross over for Kennedy. That explains how the Democrats won the at-large council seats and control of the council and still lost the race for mayor.
Kennedy appeared overly programmed, too. I'll always remember when I greeted her at the WISH-TV door at 6 a.m. six days before the election. She came to react to our poll in a live interview and was struggling with fatigue and a cold. While the interview contained predictable response, she greeted me by saying, "You and your damn poll!" It was an honest reaction that voters might accept.
Look for the Democrats to field a stronger candidate in 2015 (though it may be hard to top Kennedy's fundraising ability). They still believe voters will give them a death grip on power in this county for the long term if they can just get the mayor's office back.
The good news for Ballard is that he made few campaign promises. His campaign was built around a promise to deliver more of the same kind of leadership that made him the most likeable candidate in the 2011 race.
2015 can wait awhile.•
__________
Shella is WISH-TV Channel 8's political reporter as well as host and producer of the Emmy-nominated "Indiana Week in Review." Send comments on this column to ibjedit@ibj.com.
Please enable JavaScript to view this content.