The state's largest environmental policy group plans to push for legislation that would allow municipalities to finance clean-energy projects for commercial buildings.

The Hoosier Environmental Council also wants the Indiana General Assembly to allow metro residents to vote on whether to authorize taxes for a regional bus and train system.
Kharbanda
Legislation that would help reduce phosphorous contamination of waterways is the third item on a short list of policy initiatives HEC plans to pursue at the Statehouse with other community organizations.

"We're keeping our agenda pretty lean," said Jesse Kharbanda, executive director of HEC, noting the short upcoming legislative session will likely be dominated by right-to-work legislation.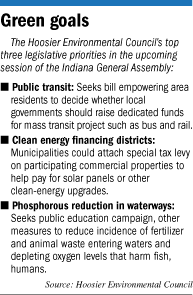 One concept HEC has tried to advance in recent years has been so-called Property Assessed Clean Energy districts, or PACE.

Already passed in at least 23 states, such districts seek to make clean-energy and energy-efficiency upgrades affordable by stretching payments over 20 or more years.

Upon request, a municipality could place a special tax levy on a property, with funds going toward such improvements as solar panels. The idea is that a property owner might be inclined to make such an improvement because the cost would be spread out over years. A subsequent owner of the property would inherit the tax levy.

Currently, many are reluctant to invest $30,000 or more on big-ticket projects such as solar panels, concerned they might not stay long enough at a location to realize a return on the investment.

Two PACE bills—one by Rep. Tim Neese, R-Elkhart, and the other by Sen. James Merritt, R-Indianapolis—were filed in the last session but were unsuccessful. Merritt said lenders were concerned that a municipality would receive priority in the event of a default.

Last year, the Federal Housing Finance Agency opined that such programs raised risk-management challenges for lenders, loan servicers and mortgage securities investors.

So the strategy this session will be to push for districts only for commercial buildings, "which kind of obviates the concerns that existed last year" among residential mortgage lenders, Kharbanda said.

He pointed to a PACE program launched last September in Ann Arbor, Mich., that allows qualifying businesses to borrow money for energy-efficiency programs costing up to $350,000, with payback through a special property tax assessment.

The first phase of Ann Arbor's program, which could finance a total of up to $4 million in improvements, can be sought for such projects as lighting, reflective roofs, and geothermal and biomass thermal units.

HEC planned to elaborate on the PACE potential Dec. 10 at its annual "Greening the Statehouse" policy forum at Butler University. Among backers of such concepts is Johnson Controls, whose director of strategic projects, Charles McGinnis, was slated to speak at the event.

HEC is also among groups such as Indiana Citizens' Alliance for Transit that plan to press the Legislature to allow counties to issue referenda whereby residents would vote on whether to authorize new local tax allocations for mass transit.

The Central Indiana Transit Task Force, a local initiative involving numerous community, government and business organizations, also supports such authorization and later this month is expected to announce its plan for funding.

"We're going to be putting forward a comprehensive plan to give the voters the final say," said Ron Gifford, executive director of the task force.

Some level of local taxes will be needed to launch the first leg of the transit system. The first leg will be an expanded bus system in Marion County, a bus system connecting Hamilton and Marion counties and, in about a decade, a rail line between downtown and Noblesville.

Beyond this initial system, estimated to cost $1 billion, are plans for rail and bus lines into other counties—assuming voters in those counties sign on.

Meanwhile, HEC is seeking legislation that would reduce the amount of phosphorous in waterways. The problem, caused by residential lawn fertilization, leads to algae blooms, which in turn reduces oxygen levels and can kill fish.

During the last session, a House bill that would have restricted use of lawn fertilizers containing phosphorus failed to advance. Kharbanda declined to elaborate on the shape a new bill could take, but suggested that a consumer education program at retail stores could be one possible avenue.

HEC has been working with the Indiana Wildlife Federation on legislative approaches.•