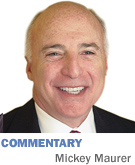 Last week Indiana University President Michael McRobbie acknowledged a generous contribution from businessman Bob McKinney to the IU School of Law-Indianapolis, henceforth the Indiana University Robert H. McKinney School of Law. The McKinney gift of $24 million, augmented by a university match of $7.5 million, challenges the administration to propel the law school into the inner circle of the 30 highest-rated law schools among hundreds that exist throughout the country.

The gift will create funds for five endowed professorships and numerous merit scholarships. Those scholarships undoubtedly will entice students with high GPAs and LSAT scores. To rework a tired phrase, "Pay them and they will come." According to US News & World Report, the acknowledged ratings master of educational institutions, raising the median test score is a prime generator of ranking improvement, so the strategy should yield results.

A top-tier law school in the city of Indianapolis not only will enhance an honorable profession, but also will provide a fine legal education—a sound foundation for any career. At the best law schools, students learn to recognize and appraise issues, approach problems analytically and communicate efficiently. Legal training enables executives to move quicker in the decision-making process. That extra step can make a difference.

Some of central Indiana's best business and civic leaders earned law degrees. WellPoint, one of our Fortune 500 corporations, was assembled by Ben Lytle with the able assistance of David Frick, both lawyers. Gerald Bepko, a former dean of the McKinney law school, swapped his law degree for an FBI badge before he pursued a career in academics and administration.

Jeff Smulyan of Emmis Communications, Alan Cohen of Finish Line, Tanya Bell of Indiana Black Expo and Gov. Mitch Daniels are other prominent products of a law school education. Bob McKinney, of course, also is among that group. You can count on the McKinney school to graduate some students who will practice law and others who will pursue varying careers—all of whom will be likely to enhance our quality of life in central Indiana.

The gift was heralded at a press conference by beaming representatives of Indiana University, IUPUI, the Indiana University Foundation and the law school. Each speaker was followed by applause from an appreciative crowd that was on its feet most of the time.

A humble man, McKinney seemed a bit embarrassed by the fanfare and said as much when he shared that he thought the celebration would be "a big deal but not this big of a deal." He should have known better. We all respect and adore this extraordinary Hoosier.

I am not surprised by his gracious and meaningful gift. In fact, in this space more than four years ago—written on the occasion of the sale of the McKinney-controlled First Indiana Corp. to Milwaukee-based Marshall & Ilsley Corp.—I predicted that he would devote the remainder of his career and much of his new liquidity to enhance lives in central Indiana. As I said then, I am honored to be one of Bob McKinney's many friends.

It is not just about the money. The financial impact of the $24 million gift is revolutionary, but an equally important gift was granted: that of the McKinney name. It is a name that has stood out to all of us in central Indiana as representing not only business success, but also class. That name is the most valuable asset of the McKinney family, and they have provided it to our community.

Some pundits have commented that the price paid for the naming opportunity was less than previous contributions made to other institutions under similar circumstances: IU Simon Cancer Center ($50 million), Sidney & Lois Eskenazi Hospital ($40 million) and Eugene & Marilyn Glick Eye Institute ($30 million). They miss the point. Law school Dean Gary Roberts got it right when he said that he was honored to have the McKinney name on his law school and that sharing the name is significant. I think it is priceless.•

__________

Maurer is a shareholder in IBJ Corp., which owns Indianapolis Business Journal, and the benefactor of the Indiana University Maurer School of Law in Bloomington. His column appears every other week. To comment on this column, send e-mail to mmaurer@ibj.com.