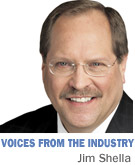 If I've learned anything covering the Indiana General Assembly, it's that the topics that dominate discussions at the end of a legislative session are generally topics that get little notice in the session previews that pop up every December.
Let's take 2011 for example. Right-to-work was the dominant issue from February to April, yet right-to-work was nowhere to be seen in December 2010. It didn't come up until the committee deadline in the House of Representatives. A perennial proposal that had never seen the light of day suddenly became the hottest of political hot potatoes.
In December 2010, the new Republican majority had no idea how much it could accomplish, how much influence conservative freshmen could yield, and how free they were to deviate from the governor's leadership as well as the middle of the political road. But when they figured it out, there was no backing off.
Those freshmen, I contend, saw 2011 as two sessions, the first and the last. They helped pass legislation to take money away from Planned Parenthood, place new restrictions on abortion and expand gun rights. They helped create new legislative districts that could guarantee GOP control for most of a decade or more, then started looking for new challenges.
But when it came to right-to-work, they had to back away at the insistence of a governor who said they didn't run on it, and the issue hadn't been properly vetted.
That led lawmakers to conduct a summer study committee and cast a party-line vote to bring it up again, making way for a declaration by GOP leadership that, suddenly, right-to-work is their top priority for 2012.
"Why?" one Democratic lawmaker asked me. Why would they pursue an issue that is so divisive that it led to a five-week walkout and prompted thousands of union workers to show up again on Organization Day to state their belief that it's misguided?
Because they can, that's why.
Also, because they want to reward the Indiana Chamber of Commerce and others that helped them win that majority.
And so we know right-to-work will be a big issue at the start of the 2012 session. But those GOP freshmen will be back with experience, new energy and ideas, and my guess is that other issues will dominate before lawmakers go home.
Mitch Daniels still wants sentencing reform that would lead to shorter prison terms for non-violent offenders. But the law-and-order crowd didn't buy it last time and isn't likely to buy it this time. Soft on crime? Not these guys.
The governor will also pursue local government reform again in the effort to pass more of his Kernan/Shepard proposals. He wants to do away with townships and consolidate county government. He will encounter resistance again from members of both parties, many of whom came up through the local government ranks.
Daniels hints at a surprise priority for his final lap around the Statehouse. In past years, he always telegraphed his agenda. Does he need something noteworthy to keep getting those cable TV interviews?
There will be new influences. Count among them the candidates for governor, Republican Mike Pence and Democrat John Gregg, and the candidates for Senate, Republicans Dick Lugar and Richard Mourdock and Democrat Joe Donnelly.
Democrats in the Indiana House have a predictable agenda heavy on job proposals and workers' rights. With a 60-to-40 GOP majority, they will be lucky to win hearings on them.
Other things to anticipate:
• The Super Bowl will interfere.
• There will be the usual array of pandering proposals, from an effort to move Indiana to the central time zone to a bill to restore one-class basketball.
• The most-used phrase will be "job creation," followed closely by "high unemployment."
• There will be the annual debate over a statewide smoking ban.
• Floor speeches from Democrats will include frequent references to Barack Obama.
• Floor speeches from Republicans will include frequent references to Mitch Daniels.
• The session will end short of the March 14 deadline as lawmakers seek to hit the campaign trail early.
But, if you want to know what really matters in the upcoming session, it's likely impossible to find out now. You need to keep an eye on those folks next year.•
__________
Shella is WISH-TV Channel 8's political reporter, as well as host and producer of the Emmy-nominated "Indiana Week in Review."
Please enable JavaScript to view this content.