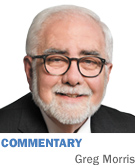 As another year comes to a close, I'm going through my customary reflection of accomplishments for the past 12 months and prioritizing goals for the upcoming year. I'm also assembling a wish list for things I would like to see change. So, I thought I would share some of the items included on my wish list for 2012.
• I wish all of the "Occupy ____________"(fill in the blank—Wall Street, Indianapolis, name the city) folks would join together in an attempt to make a bigger splash by occupying the Grand Canyon. I vote for the "Occupy the Grand Canyon" movement. I think it's large enough to hold all of them. They can camp out, go to the bathroom just about anywhere they want without causing a fuss, and discuss what the world owes them in a beautiful setting.
Also, the location is remote enough to make it tougher for the media to get to the protesters and constantly cover the story. The media loves this story, don't they? The media loves this story so much that I predict we'll be down to five people protesting in front of a building someday and the headline will be—"Occupy movement continues to show signs of resiliency." Don't get me started.
• I wish a competent candidate would surface who can give President Obama a serious challenge in next year's critical election. I don't even want to think about the ramifications of another four-year term. Too alarmist you say? I really don't think so. We need change we can believe in.
What do you think about the current Republican field? I believe many voters are underwhelmed with what they've seen so far.
I wonder how Donald Trump would do as a third-party candidate. He knows how to sell his point of view and is a master at manipulating television and the news. He knows how to fire people who aren't doing their job well and he has survived many financial downturns. I don't think he would take any guff from a foreign adversary. Forget the hair. We'll get that fixed. He might be the guy. And to show that I'm not just touting Republicans, I'll take Bill Clinton back. I'll take Hillary Clinton. I'm just trying to find someone—anyone—who can beat the incumbent.
• I wish the stock market would stabilize and show some steady growth. My 401(k) has been on life support for a decade now. Stuffing money in the mattress would have been a much smarter strategy. All the conventional wisdom of looking at the long term and buying stocks at a lower price as you continue to invest is not working. At this point, I'll consider myself lucky if I can get back to even by 2020. Is that a long-enough look?
It just occurred to me that I could go to Vegas every month and most likely retain more of my gambling stakes over the long run than investing in my 401(k). It would be a lot more fun, and I'd get some free dinners and cocktails along the way. Hey, I like that idea. I'm going to occupy Las Vegas! And, it's not that far from the Grand Canyon.
• I wish IU would have a strong showing in the NCAA basketball tournament. Are the Hoosiers back?
• I wish the Pacers would have a good NBA season—that way we'd know the Pacers are back for sure.
• I wish the Colts … would improve. Space does not allow me to cover this topic fully.
• I wish certain Indiana legislators would never vacation in the state of Illinois again, ever, for any reason. After all, it's not only their right to work, it's their duty.
• I wish I could break out of my shell and write what I really think. I'm pretty reserved. Being politically correct all the time is for the birds. I'm going to work on doing a much better job of expressing myself in 2012.
Finally, I wish you and yours health and prosperity in 2012. I humbly thank you for reading IBJ. See you next year.•
__________
Morris is publisher of IBJ. His column appears every other week. To comment on this column, send e-mail to gmorris@ibj.com.
Please enable JavaScript to view this content.