Pure epicureans might disagree, but names matter when it comes to restaurants. Actually, I should say identities—which include names—matter.

Case in point, the ShelBi Street Café.

The former restaurant on the ground floor of the Fountain Square Building had good-enough food, appropriate price points, and a comfortable-enough atmosphere. What it didn't have was identity. You need more than a deliberately misspelled street name and an out-of-place capital B for that.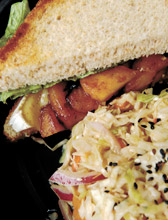 The fruit is accentuated, but not overwhelmed, by cinnamon and brown sugar in Brookie's Baked Brie & Fuji Apple Sandwich. (IBJ Photo/ Perry Reichanadter)
Well, I'm happy to report that a minor reworking by the same owners has turned ShelBi Street Café and Bistro into the End of the Line Public House (1105 Prospect St., 686-6010). The name pays homage to both the trolley that used to turn around in front of the building and the completion of the Fountain Square stretch of the Cultural Trail.

End of the Line keeps some of the dishes from the ShelBi Street menu, but offers them in an atmosphere with a stronger—but not overbearing—sense of place. Vintage trolley photos line the walls, a battalion of beers (many local) dot the menu, and outdoor dining will be available when the weather improves.

The Gingham Salad ($5) with its ample toasted pecans, mixed berries and blue cheese is a worthy carryover from the venue's previous incarnation. The Beer & Bison Burger ($10) dredges eight ounces of buffalo in Stout beer and tops it with just enough applewood smoked bacon and white cheddar.

A return visit with a guest started with plump Fresh Baked Pretzel Sticks ($6.50 for a quartet), hot and chewy on their own but with Havarti dill and Stout beer cheese dips as accompaniment.

My guest was happy with Brookie's Baked Brie & Fuji Apple Sandwich ($10), where cinnamon and brown sugar accented but didn't overwhelm. Meanwhile, I transitioned to a Cajun Pizza ($10), one of a dozen personal pies on the menu. Chunky chopped shrimp, slices of Andouille sausage, roasted peppers, kicking jalapenos and not-overwhelming smoked Gouda made this a hearty but balanced creation, more satisfying than what's served in many a gourmet pizza shop.•

—Lou Harry

__________

Last in a series of visits to eateries that have recently moved into the digs of former eateries.