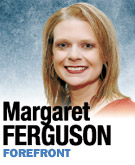 I recently spent a lovely few days in New Orleans, one of my favorite cities. Louisiana bans smoking in most workplaces and all restaurants but exempts bars and gambling facilities. Non-smoking advocates recently launched a "Let's be Totally Clear" campaign, arguing that employees in bars and casinos deserve the same protection as other employees.
They have had some notable successes. Some of New Orleans' most popular bars and music venues have chosen to go smoke-free. This is a welcome change.
Now, I think most observers will agree that Louisiana isn't exactly famous for leading the way in progressive public policy. And New Orleans is known much more for encouraging vices than for limiting their use in public places.
Nevertheless, the state of Louisiana has done something the Hoosier state has not. Though many cities in Indiana have smoking bans of one type or another and Indianapolis has considered expanding its ordinances, we don't have a statewide ban. And we should.
At the very least, the state should set "least common denominator rules"—for example, no smoking in workplaces or restaurants—and allow cities and localities to set higher standards if they choose.
Bars and casinos are often the sticking points as lawmakers grapple with smoking bans. However, 29 states have laws that ban smoking in all restaurants and bars. Twenty-three states ban smoking in non-hospitality workplaces, restaurants and bars. Nineteen states even ban smoking in state-regulated gambling establishments. Over 600 municipalities require restaurants and bars to be 100-percent smoke-free.
It is clear from the experience of other states and cities that businesses will survive, and often thrive because of, the eradication of smoking. Employees will have a safer work environment. And patrons will also benefit from the elimination of secondhand smoke. The public health benefit is clear.
I'm not advocating the prohibition of tobacco sales (history teaches us that is not a good approach even if it didn't make the civil libertarian in me uncomfortable), but the state has an interest in limiting as much as possible the public health costs associated with tobacco use.
States spend a great deal of money on caring for citizens with tobacco-related illnesses, and businesses lose money when employees become sick and miss work due to smoke exposure.
It is also true that states make money from tobacco use as we tend to tax "vices" heavily. This fact complicates the story a bit. Banning smoking in all public places might cost the state some money in tax revenue as some smokers will quit (or cut back) out of the inconvenience. Taxation also decreases smoking, as research shows that smokers (especially younger ones) are cost-sensitive.
But the potential "losses" from measures that might cut down on smoking and that definitely protect non-smokers from the negative effects of smoking would be offset by an unmitigated good for the state.
Businesses such as bars could simply choose to go smoke-free as some in New Orleans have done. Some in Indiana have tried to do so. But they face a collective-action problem.
To the extent that there is a potential cost to businesses for being smoke-free (and this is uncertain), voluntary smoking bans will be difficult to enact. Businesses will fear losing customers to other establishments that choose not to protect their employees and patrons.
When laws are passed, everybody works under the same rules and the playing field is leveled. This frees business owners from the difficult tradeoff between the health of their employees and their concerns about the bottom line.
I hope Indianapolis will reconsider expanding the smoking ban in advance of the Super Bowl. But I hope even more that our state will join the many others and establish statewide smoking bans in workplaces, restaurants and bars so that all Hoosiers have access to the same clear air.•
__________
Ferguson is an associate professor of political science in the School of Liberal Arts at IUPUI with expertise in state politics. Views expressed here are the writer's. Send comments on this column to ibjedit@ibj.com.
Please enable JavaScript to view this content.