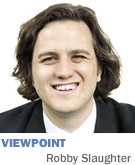 As we wrap up the final quarter of 2011, it's clear the struggling economy is not a deterrent to many entrepreneurs. Indianapolis has seen hundreds of new companies—and not just tech startups hoping to offer a clever Web-based product.
By this time next year, we will likely have more than two dozen locally owned food trucks and breweries within city limits. We've got new retail shops, from fresh restaurant concepts to upscale pajama boutiques. Even in difficult times, trying something different retains a tremendous appeal.
Lately, I've been most intrigued by companies that are entering adolescence but retain the vigor of a newborn. This is the year Facebook received a nearly billion-dollar investment from storied Wall Street firm Goldman Sachs. It's also the year Netflix announced a dramatic change in its business model, then turned on a dime a few weeks later in response to customer feedback.
Companies new and old outwit and outperform their competition due to a crucial differentiator: speed of execution. In business, faster is everything. It might also be the most difficult thing of all.
At first glance, swiftness is anathema to many business practices. Internal auditors need to be thorough. Research and development teams need to systematically test and confirm results. Chefs need to devote long hours to slow-cooked foods. Anything worth doing well takes time.
On the other hand, we love when business happens at the speed of thought. We appreciate lightning-fast response from the front desk of a hotel, from a customer service representative on a telephone, or from an overnight delivery service.
This is a paradox of the modern era: We want everything to be made flawless through accrued wisdom, but we also want everything to appear instantly.
This claim might seem self-evident. Yet, responsiveness is like fashion. Without being conscientious, it's easy to accidentally overdress or underdress for the occasion. Voice mails go unreturned for days, but e-mail replies often appear in minutes. An electronic funds transfer might occur within seconds, but permits and paperwork typically require weeks.
We confuse urgency and importance. We are hasty when we should be cautious and sluggish when we should be proactive. Business must be faster, but it must also take the time to be smart.
Acknowledging the true impact of speed leads to a new level of corporate integrity.
This is the attorney who explains she can give you an uninformed answer now that is almost certainly wrong, or an informed answer tomorrow that is almost certainly correct. This is the service manager who immediately sends a replacement unit to minimize your downtime, then later reviews the returned item to determine the cause of the malfunction. This is the potential interruption that becomes a scheduled meeting, and also the genuine emergency that justifies knocking on a closed door.
The best companies aren't just fast: They are judicious about when to be quick and when to be thorough.
Big firms occasionally eat small ones, but the most impressive form of competition is when the fast defeat the slow.
Organizations and individuals that innovate more quickly simply get more done. Those that choose not to make panicky responses create the space to develop ideas and explore their market.
Give your employees both the freedom to move as quickly as they desire and the responsibility to decide when delay is preferable to error. Choose to be as fast is possible when fast is prudent.•
__________
Slaughter is a principal with Slaughter Development, an Indianapolis business-process and work-flow-consulting company. Information on his new book, "Failure: The Secret to Success," is available at www.slaughterdevelopment.com.
Please enable JavaScript to view this content.