Hosting the Super Bowl has been hailed as a big score for Indianapolis and its residents, many of whom have never had the chance to check out the hoopla that comes along with the big game.
But the 150,000 visitors expected to descend on the city aren't the only ones who can take advantage of the special events—and the extra shine organizers are putting on downtown.
"It's an opportunity to pay attention to what we have in our own back yard," said Keira Amstutz, co-chairwoman of the Super Bowl Host Committee's culture and arts subcommittee. "Locals should be aware that the city is open for business."
Although plans were still being finalized at IBJ press time, downtown shuttles are expected to enable locals and visitors alike to hop from one attraction to the next. And the Super Choice campaign's signature green foam fingers are a not-so-subtle reminder of local arts options, too.
"This is an opportunity for people to get involved and be part of that spirit, while not necessarily having their butt in a seat on game day," said Diana Boyce, a spokeswoman for the host committee.
By and large, local attractions will be open during the days surrounding the Super Bowl. Below is an overview of what else will be happening.=
ON THE STREET
————————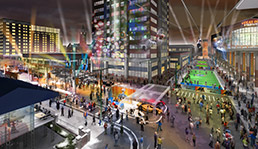 Super Bowl Village. (Photo courtesy 2012 Indianapolis Super Bowl Host Committee )
Super Bowl Village
Georgia Street between Capitol Avenue and Pennsylvania Street
The much-discussed Super Bowl entertainment hub underwent a $12.5 million overhaul, creating a three-block pedestrian plaza that promises 10 days of action starting Jan. 27.
More than 80 local, regional and national bands—the likes of Born Again Floozies, Hunter Smith Band and LMFAO—will perform on two stages (though the schedule has yet to be released). Food Network's so-called "ice gurus" will show off their ice-sculpting skills. A 2,500-square-foot inflated dome will provide some indoor entertainment (and heat). And Tailgate Town will host tailgating competitions and interactive games on an artificial-turf field.
Oh, did we mention all of that is free?
If you're looking to avoid the worst of the crowds, make your way to the Village before Feb. 1, when the masses are expected to start descending on Indianapolis.
Massachusetts Avenue, Fountain Square and Indiana Avenue
Massachusetts Avenue, one of the Super Celebration sites, is planning a full weekend of festivities. Its Festival of the Arts Feb. 3-4, which will coincide with the monthly First Friday of gallery open houses, will feature fresh artwork in galleries and restaurants. Merchants along the avenue will remain open until 10 p.m. both days.
On game day, Mass Ave restaurants and shops will be open 10 a.m. to 6 p.m. All three days, high school bands will march up and down the avenue rousing the crowd with fight songs.
Fountain Square and Indiana Avenue also are Super Celebration sites and will offer special activities that weekend.
People strolling around downtown will have plenty of new public art to engage them. Through the "46 for XLVI" murals initiative, the Arts Council of Indianapolis commissioned 46 artists, both local and national, to create murals throughout Marion County, most of them downtown.
Zip line, Georgia Street at Capitol Avenue
Interested in a different view of the city? Try a $10 ride on one of the four 650-foot zip lines that will whisk guests along Capitol Avenue about 80 feet above street level. It's billed as the longest temporary zip line in the country.

Super Cars (Photo courtesy 2012 Indianapolis Super Bowl Host Committee )
Super Cars
It's not surprising that a town known for its annual car race would find a way to fuel gear heads' excitement. The Super Cars initiative gives new meaning to fast football, adorning 33 race cars—the same number as the Indianapolis 500 starting field—with the logos of NFL teams and the league itself.
All of the cars will be lined up along the south spoke of Monument Circle from Jan. 27 to Jan. 29 before being dispatched to the 20 designated Super Celebration sites throughout central Indiana.
Cars representing the Super Bowl contenders and the NFL will be parked in Super Bowl Village.
CONCERTS
——————–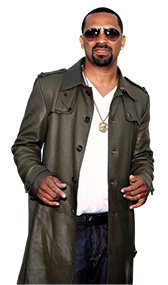 Mike Epps (Helga Esteb / Shutterstock.com)
Bankers Life Fieldhouse
125 S. Pennsylvania St.
Bankers Life Fieldhouse will present two concerts. The Rock & Worship Roadshow, Jan. 28, will bring Christian music stars MercyMe, Tenth Avenue North, LeCrae and others to town. Admission is $10. Mike Epps & Friends, Feb. 2, will include Snoop Dogg and Wiz Khalifa. Tickets range from $44 to $75.
Convention Center & Fairgrounds
The Pepsi Musica Super Bowl Fan Jam will showcase Latin music at the Indiana Convention Center Feb. 1. The Indiana State Fairgrounds will host two concerts: the Pepsi Super Bowl Fan Jam Feb. 2 and CMT Crossroads, which pairs a popular country artist with a non-country act, Feb. 4.
Clowes Memorial Hall
4602 Sunset Ave.
Catch some of football's true Renaissance men at the Super Bowl Gospel Celebration, Feb. 3. The show spotlights the NFL Players Choir, featuring wideouts, running backs, corners and linemen decked out in choir robes and making a joyful noise. The show starts at 7:30 p.m. Tickets are $99, $79, $59 and $39.
The Madame Walker Theatre Center
617 Indiana Ave.
The Madame Walker Theatre Center will host a Super Soul Celebration Jan. 28. Tickets for the show, which will pay tribute to Luther Vandross, Phyllis Hyman and Marvin Gaye, are $36 and $46.
Hip-hop legend DMC of RunDMC fame will headline a benefit show, also at the Walker Theatre, Feb. 4. Tickets are $45 in advance ($65 for VIP tickets) and $100 the day of the show. All proceeds will go to the Sierra Leone-based House of Restoration Africa.
CELEBRITY SPOTTING
———————————
ESPN on location
Pan Am Plaza
Indianapolis will be the epicenter of ESPN's Super Bowl XLVI coverage from Jan. 30 to Feb. 5. The sports network plans to produce 110 hours of programming including "Mike & Mike in the Morning," "SportsCenter" and a special game-day edition of "Sunday NFL Countdown" from its temporary quarters at Pan Am Plaza.
ESPN will build a 62-foot-by-40-foot outdoor set overlooking Lucas Oil Stadium, plus a demonstration field and "flycam" suspended 30 feet in the air to provide aerial views. Set-up is expected to begin Jan. 20.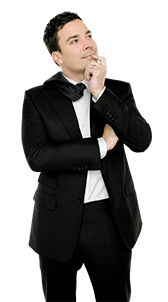 Jimmy Fallon (Virginia Sherwood/NBC)
"Late Night with Jimmy Fallon"
Hilbert Circle Theatre
The home of the Indianapolis Symphony Orchestra will play host to tapings of "Late Night with Jimmy Fallon" Feb. 1-3, as well as a fourth "Late Night" show broadcast live Feb. 5 after the big game. Admission will be free, but tickets are required.
Party time! (Excellent)
What do you get when you mix the NFL, its big-money sponsors and thousands of deep-pocketed movers and shakers? The ingredients for a heck of a party. Rolling Stone magazine and rum maker Bacardi already made headlines for the $1,000-per-person star-studded bash they're planning for Feb. 4 at a renovated factory downtown. Other events with tickets listed for sale online include the storied Playboy party Feb. 3 and Maxim's Feb. 4 celebration.
ARTS & CULTURE
————————-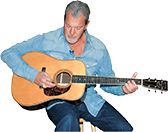 jim Irsay (Photos courtesy Indiana State Museum)
Indiana State Museum
650 W. Washington St.
Find out the sorts of oddities an NFL team owner keeps around his house in "Chaos is a Friend of Mine: Cultural Icons from the Jim Irsay Collection." The boss of the Indianapolis Colts shows off some of his quirkier possessions, including the 120-foot-long scroll manuscript from Jack Kerouac's 1957 novel "On the Road," Keith Richards' first guitar, Austin Powers' signature eyeglasses, Peyton Manning's Super Bowl XLI jersey and a document signed by Abraham Lincoln. Oh, and lots of football stuff. The exhibit runs Jan. 27 to May 6.
"Radical" is a word that describes many of the items, said Kathi Moore, museum spokeswoman.
The museum will maintain normal operations through Jan. 31. Beginning Feb. 1, its Washington Street entrance will be closed but visitors can access the Irsay collection and the "Shackleton's Legendary Antarctic Expedition" exhibition through a temporary entrance west of the canal. Check indianamuseum.org for details.
NCAA Hall of Champions
650 W. Washington St.
The museum inside the NCAA's national headquarters offers exhibits about former college football stars who went on to bigger things after graduating—including, in lots of cases, pro careers. While you're there, take a look at the Flying Wedge, a bronze sculpture of early 20th century footballers hunkered down in the most dangerous formation in football history—a literal wedge of players who slammed into opposing team's defensive lines, causing numerous injuries and deaths. This play was responsible for reforms in the game that turned it into the sport we know today.
In late January, the NCAA Hall of Champions will begin displaying updated exhibits focusing on former NCAA student-athletes who excelled in football and have gone on to extraordinary achievements. Some of those athletes are current and former NFL players. The facility will open two hours early, at 10 a.m., Feb. 5. Otherwise, operating hours will remain the same that week.
IDADA Art Pavilion
202 N. Alabama St.
If the thought of the Super Bowl fills you with an overwhelming desire to witness avant-garde art installations, take heart. The Indianapolis Downtown Artists and Dealers Association offers "Turf," a "presentation of experimental art and design" taking place in its new Art Pavilion inside the old Indianapolis City Hall. Featuring works by 20 juried artists, "Turf" will be open 10 a.m. to 5 p.m. Tuesday-Sunday beginning Jan. 16 and running through game day, Feb. 5.
The association raised $150,000 in sponsorships and in-kind donations to convert the century-old building at the corner of Alabama and Ohio streets into an arts pavilion, said Mark Ruschman, pavilion coordinator.
The free exhibition opens well in advance of the Super Bowl so locals have a chance to check it out before all the out-of-towners arrive, Ruschman said. The goal of the pavilion is to pique visitors' interest and steer them toward local galleries.
FOOD & DRINK
———————-
Taste of the NFL
Gleaners Food Bank, 3737 Waldemere Ave.
The 21st annual "Party with a Purpose" pairs chefs from each NFL city with players (or ex-players) who serve grazing-sized portions of high-end dishes during a meet-and-greet benefiting food banks.
Since 1992, the event has raised more than $11 million for hunger-relief organizations nationwide. Tickets are $600 each, or $7,000 for a table of 10.
Veteran participant Greg Hardesty is leading the local contingent with an assist from former Colts tight end Ken Dilger. The fundraiser is scheduled for 7 p.m. Feb. 4.
Indianapolis Propylaeum 1410 N. Delaware St.
For an experience that's the absolute, antimatter opposite of Super Bowl week, partake of the Propylaeum's big-game tea. Tea times—not to be confused with tee times—are 11 a.m., 2 p.m. and 4 p.m. daily Jan. 30-Feb. 6. Guests enjoy a selection of tea, scones and tiny sandwiches while soaking up the atmosphere of this 1890 mansion. $20 for adults, $12 for kids under 12. Reservations required.
GET IN THE GAME
—————————
NFL Experience
Indiana Convention Center, 100 S. Capitol Ave.
What are the can't-miss experiences at this sprawling event dedicated to everything fans love about the game? For laughs, the best bet is the Look Like A Pro exhibit, where civilians step inside a hulking body cast mold of a player wearing your team's colors and have their picture taken. Of less interest is the Measure Up to the Pros area, where civilians compare their physiques and athletic skills to those of actual players. Tickets are $25 for adults, $20 for children under 12. Discount family packs are available Jan. 27-Feb. 1, and Colts fans who wear their jerseys can get $5 off full-price tickets Jan. 30-31. The attraction is open through Feb. 4.
SPORTS, ETC.
———————
Woodland Bowling Center 3421 E. 96th St.
Roughly 50 retired NFL players will pair up with amateurs for the 7th Annual NFL Charities Super Bowl Celebrity Bowling extravaganza. If you'd like to roll a few frames with ex-jocks, be prepared to pay slightly more than Woodland's usual lane rental fee: $300 per person and $500 for couples. The festivities take place Feb. 4.
Other events
While it might have been nice to see the Colts in a hometown Super Bowl, football is not the only game in town. The city's other pro sports teams will be playing that week, although their schedules have changed.
The Indiana Pacers now will play the New Jersey Nets on Jan. 31 and the Orlando Magic on Feb. 4. Both games will be at Bankers Life Fieldhouse.
The Indiana Ice's games that week will not be at Pepsi Coliseum, as originally scheduled. Instead, the team will play the Chicago Steel on Jan. 27 at Bankers Life Fieldhouse. On Jan. 28, the Ice will take on the Muskegon Lumberjacks in Muskegon, Mich.
Those who prefer to take to the ice themselves will have to look farther afield than usual. Public skating has been suspended at the Indiana/World Skating Academy at Pan American Plaza Jan. 29 to Feb. 8. Likewise, the Pepsi Coliseum's rink will be closed Jan. 27 to Feb. 5.
Please enable JavaScript to view this content.