Chicago is launching an initiative some in the local sports and tourism industries think is a direct shot at Indianapolis.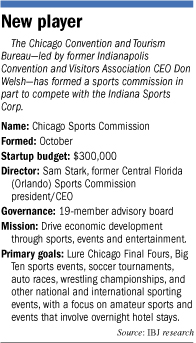 In October, the Chicago Convention and Tourism Bureau formed its own sports commission, fed it $300,000 in startup cash, and hired Central Florida Sports Commission CEO Sam Stark to lead the organization.
The Chicago Sports Commission is the brainchild of Don Welsh, who left his post as Indianapolis Convention and Visitors Association CEO last January to lead the Chicago Convention and Tourism Bureau. Welsh had been ICVA CEO for almost three years.
"When Don was in Indianapolis, he was in the middle of the effort to draw more sports events and properties here as a way to grow tourism, so it doesn't surprise me that he would want to try to replicate in Chicago what we do here in Indianapolis," said Milt Thompson, an Indianapolis sports marketer who is on the city's Capital Improvement Board and the ICVA's finance committee. "Indianapolis' success has given rise to a number of copycats, and that's thrown the ante up."
Indiana Sports Corp. officials said they were aware of the Chicago initiative, but that it would not have a major impact on the way they conduct business.
"Indianapolis has competed against Chicago for years for certain sports events, and in some cases they've been one of our primary competitors," said ISC spokesman John Dedman. "This doesn't really change anything from our perspective. We're focused on what we do."
ICVA CEO Leonard Hoops referred all questions on the matter to ISC officials.
Several sources within Chicago sports business circles said the Chicago Sports Commission's formation came as a result of Indianapolis' success in luring events such as the 2012 Super Bowl, the Big Ten Football Championship and Big Ten men's and women's basketball tournaments.
"I think some of the recent decisions by the Big Ten has really woken some people in Chicago up," said Marc Ganis, president of SportsCorp Ltd., a Chicago-based sports business consultancy. "Remember, the Big Ten headquarters is in Chicago. Some people thought if we have difficulty winning bids from an organization in our own back yard—and if we really want to get more serious about attracting sports-related business—maybe we need to do something."
In June, Big Ten officials announced they'd hold the college conference's first five football championship games in Lucas Oil Stadium. Chicago's Soldier Field was the other finalist.
Chicago and Indianapolis have wrestled over the Big Ten men's and women's basketball tournaments since 1998.
Chicago did earn a split decision in basketball last summer, winning the Big Ten men's and women's tournaments in 2013 and 2015. The United Center will host the men, while the women will play at the Sears Centre in Hoffman Estates. Indianapolis' Bankers Life Fieldhouse, which hosted the last four years, gets both tournaments in 2012, 2014 and 2016.
Welsh
Some Indianapolis events "absolutely" are in Chicago's sights, Welsh said.
"They have been and continue to be the model for a sports commission," Welsh said.
He said there will be special interest in attracting sporting events to Chicago that can increase area hotel business. Stark claims to have lured 98 events to the Orlando area since 2009, a haul he says translated into more than 160,000 hotel room nights and $100 million in economic impact.
"The formation of the Chicago Sports Commission is essentially sports tourism through economic development," Welsh said.
Ganis expects the war to spread beyond fighting over events.
"What Indianapolis has done in terms of attracting not only sporting events but organizations like the NCAA and sports governing bodies has definitely been noticed by people in Chicago," Ganis said. "The commission is a nice first step. It's about time."
Ganis said the formation of a sports commission alone won't be enough to compete with Indianapolis and the Indiana Sports Corp., which in 1979 became the nation's first sports commission and now has a $3.6 million annual budget.
"The next step will be to address the need for facilities," Ganis said, adding that a large swimming complex and multi-field outdoor space will be needed for Chicago to better compete with Indianapolis for a number of sports events from youth tournaments to international competitions.
"One thing Chicago can't easily replicate is Indianapolis' downtown set-up with its connected convention center and retractable roof stadium," Ganis said.
Stark, 42, is undaunted. He calls the potential for the Chicago Sports Commission "unlimited."
"We can attract almost any event we want," Stark said.
Among Chicago's potential targets are NCAA championships—Final Fours in particular, gymnastics and wrestling world championships, and Formula One and IndyCar Series races, Stark added.
Stark must better coordinate stakeholders within Chicago's city government and tourism sectors—something Indianapolis has excelled at—before it can grow its sports tourism initiative, Ganis said.
An escalated war could cause both cities to ratchet up their efforts.
"Indianapolis is a model right now, but we have to stay on top of our game," said David Morton, president of locally based sports marketing firm Sunrise Sports Group. "Local officials have to look at things like upgrading the Natatorium and [IUPUI] track and field facility and being creative in not only bidding on but owning the rights to sporting events.
"In this environment," Morton added, "if Indianapolis doesn't continue to be creative, it risks falling behind in this high-stakes game."•
Please enable JavaScript to view this content.