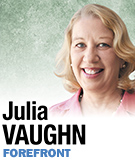 The recent indictment of former Indiana Utility Regulatory Commission Chairman David Hardy illustrates the need for a culture change in utility regulation.

Utility companies operate in one of the most powerful industries in Indiana, and Hoosiers have a lot at stake; we will pay $14 billion this year to the 132 companies under IURC purview.

In addition to protecting our pocketbooks, the state must move to ensure that the public trust is upheld at the agency, since the Hardy/Duke scandal has left a dark stain of impropriety.

Unfortunately, Indiana law makes it relatively easy for utility companies and other wealthy and well-connected interests to exert political influence and gain economic rewards along the way. It will be interesting to see if this recent scandal spurs any action by the Legislature or the Daniels administration to rein in the influence of industries before the agencies that are supposed to be regulating them.

The case of Hardy and the IURC is the perfect example of the dangers involved in appointing individuals with industry backgrounds to powerful regulatory agency positions where they will make decisions involving their former employer and colleagues. Instead of useful expertise, this background and experience usually makes these individuals less than objective, which is exactly what a regulator should be.

Because of an enterprising reporter's Freedom of Information request, the public has been given access to former Chairman Hardy's e-mails. They paint the picture of an entirely-too-cozy relationship with one of the monopoly utility companies he was supposed to be overseeing.

That shouldn't be surprising to anyone, given Hardy's previous employment at Duke Energy predecessor Public Service Indiana. The e-mails suggest Hardy still considered himself part of the industry team, even though he was supposed to be sitting on the sidelines.

How can we ensure that IURC members are unbiased arbiters? Currently, Indiana is one of only three states where utility regulatory commission members are appointed by the governor.

A better way would be to elect the members of the IURC. But for that to work, a ban on campaign contributions from utility companies to regulatory commission candidates would be needed.

There is precedent for singling out certain industries and declaring their campaign contributions off-limits. The gambling industry, for example, has been prohibited from making political contributions to state-level candidates since the 1990s.

Short of an elected IURC, another way to provide scrutiny of those appointed to the Commission by the governor would be to require legislative approval. Hopefully the prospect of a public confirmation proceeding would discourage the selection of individuals whose backgrounds create conflicts of interest.

And even though Gov. Daniels supported legislation to create a one-year cooling-off period before executive branch employees can accept private sector employment in the same field, the law has no teeth. The State Ethics Commission has granted far too many waivers to this rule, allowing numerous state employees to get a free pass through the revolving door.

In fact, it was the Commission decision to waive former IURC attorney Scott Storms through the revolving door that sparked the whole Hardy scandal. Waivers to the cooling-off period should be the absolute exception, not the rule.

And, lengthening the cooling-off period to at least two years would provide a better buffer to ensure decisions are made on their merit, not in consideration for future employment. Interestingly, Minnesota has been debating increasing its cooling-off period from three years to five years; talk about a different ethics culture!

Perhaps the biggest change affecting ethics in state government has not happened in state government at all. The Marion County prosecutor is the top ethics enforcement officer with jurisdiction over state government, and for too long that office took a blind eye to concerns about public corruption.

Kudos to Prosecutor Terry Curry for investigating the Hardy scandal and filing charges. Ultimately the best way to ensure ethical government is to vigorously prosecute those who break the law.•

__________

Vaughn is policy director for Common Cause/Indiana, a nonpartisan citizens lobbying organization that works for open, honest and accountable government. Send comments on this column to ibjedit@ibj.com.