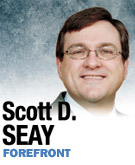 This is the first time we have seen this sort of thing in the highest ranks of the Republican Party, but it certainly isn't going to be the last.
"Dominion theology" inspires presidential hopefuls Rick Perry and Michele Bachmann to claim that evangelical Christians have a God-given mandate to take control of—or, in the words of Genesis 1:28, "have dominion over"—the government, media, schools, businesses and churches. In fact, die-hard advocates of dominion theology hold that permitting non-believers to control the nation represents a failure of evangelical faith.
Consider Perry's television ad that began airing recently. After saying he is "not ashamed to admit that he's a Christian," he complains that "gays can serve openly in the military, but our kids can't openly celebrate Christmas or pray in school." He promises to end "Obama's war on religion" and "fight against liberal attacks on our religious heritage." Wearing a Carhartt jacket that makes him look like an ordinary American, he says, "Faith made America strong. It can make her strong again."
How can a potential presidential candidate admit his religious political agenda and assume it would be well-received?
Dominion theology slowly climbed out of obscurity into the limelight of Republican Party politics. Originating on the theological fringe in the writings of R.J. Rushdoony in the 1960s, it moved to the center in the 1970s through the slick marketing of Bill Bright and his Campus Crusade for Christ. Under the tutelage of C. Peter Wagner, it rode the wave of the Reagan Revolution in the 1980s. In Marvin Olasky, one of George W. Bush's most trusted advisers, advocates of dominion theology saw that the presidency was within reach.
All the while, the number of supporters continued to swell, nurtured in well-organized, politically savvy evangelical churches and related institutions.
Bachmann learned her dominion theology at the Coburn School of Law at Oral Roberts University in the early 1980s. Today, she works closely with Truth in Action Ministries, an evangelical initiative aiming to apply Biblical truths to reform every aspect of American society.
Over the last decade, Perry has forged strong connections with the New Apostolic Reformation, led by elders and prophets who wage "strategic-level spiritual warfare" against the demonic forces now controlling the nation. Its leaders have been the principal organizers of Perry's recent prayer and fasting rallies known as The Response.
But Bachmann's political star has been falling since July, and Perry's since September. Neither stands a chance of claiming the Republican nomination, much less the presidency. Does that mean the influence of dominion theology on the Republican Party can be dismissed? Hardly.
One reason is home-schooling. Rushdoony was a pioneer in the movement 40 years ago, and it continues to bear his imprint. At the core of much home-school curriculum is a revisionist history, a belief that America was, until recently, a Christian nation. Home-schooled children constitute a "Joshua Generation," who, like the Biblical figure, will reconquer the land they believe God promised them.
Most of these home-schooled children will become registered voters; some will be candidates themselves.
Nevertheless, dominion theology is not likely to gain much traction in Indiana, even among Republicans. Generally, Hoosiers like their politics and their religion to be politely middle-of-the-road, avoiding ideological extremes.
Today, Hoosier Protestants are almost evenly divided between mainline and evangelical groups. Roman Catholics—who show almost no affinity for dominion theology—are another significant Christian group in Indiana.
Moreover, advocates of dominion theology find ranking Indiana Republicans to be lukewarm politically and religiously, and too closely tied with the wealthy status quo to be of much use.
It would probably take a revolution in both politics and religion for Hoosiers to embrace dominion theology to any significant degree.
But pay attention. Dominion theology will not disappear from national politics anytime soon because advocates are resolved to pursue their God-given mandate. Even if you don't share their beliefs, take them seriously. They certainly do.•
__________
Seay is an assistant professor of the history of global Christianity at Christian Theological Seminary and pastor of Brown County Presbyterian Fellowship. Send comments on this column to ibjedit@ibj.com.
Please enable JavaScript to view this content.