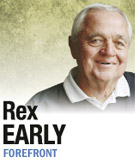 Bob Orr was governor of Indiana from 1980 to 1988. Early on, Orr was convinced trade with Japan could help Indiana.
Orr was the first Indiana governor to go to Japan. The lieutenant governor was John Mutz, who would head up the Department of Commerce, which included economic development and international trade.
Mutz in those eight years worked tirelessly to convince Japanese auto manufacturers to locate in Indiana. In December 1986, his hard work paid off, as Subaru agreed to build a plant in Lafayette.
In March 1987, Subaru of Indiana Automotive was incorporated in Indiana. Also in 1987, Mutz announced he was a candidate for governor to succeed Orr. I was his finance chairman.
Mutz was nominated.
All at once, the Subaru plant became a campaign issue. The Evan Bayh campaign did this to stir up union support and some animosity with our World War II veterans, who were in their 60s.
I was stationed in Japan at Camp Fuji nine years after the truce. Practically all my senior Marine Corps non-commissioned officers, one of whom had been a prisoner of war, and my company commander had fought the Japanese. They were not ready to invite the Japanese to Thanksgiving Dinner, but we all got along.
In any event, the Bayh campaign did its best to spread the xenophobia to please the United Auto Workers. It was the union's concern about the plant, not necessarily the veterans'.
Bayh won the election in a close race. Did the Subaru issue contribute to Mutz's defeat? Who knows? I always thought it was taking Steve Goldsmith on the ticket for lieutenant governor.
Now jump to 1995. Toyota was being courted in southwestern Indiana to build a plant in job-starved Gibson and Vanderburgh counties.
Obviously, the Toyota people were aware of the political football the Subaru plant had become, and Bayh was still governor.
Bayh had let it be known he was going to run for senator against Republican Dan Coats.
Bayh wanted the Toyota plant to locate in Indiana, but was concerned that Coats would use his flip-flop against him in the Senate race. ("Let's see, Evan was against the Japanese Subaru plant, but was for the Japanese Toyota plant.")
Now Coats, who didn't come in on the noon balloon from Rangoon, was concerned that if he endorsed the Toyota plant, Bayh would give him the Subaru treatment.
Both wanted the plant, but wouldn't say so.
Toyota wanted endorsements from both or it was going to Tennessee.
The situation became a Chinese stand-off.
The rest was history.
It did get worked out, with only hours to spare. Now, in addition to Subaru in Lafayette and Toyota in Princeton, we have Honda in Greensburg. Indiana is the third-leading auto manufacturing state, and we are the only state with three Japanese auto assembly plants.
Total employment of these three plants is close to 10,000. In addition to the 10,000 employees, there are dozens of "tier one and two suppliers," which are independent businesses that manufacture parts and other items for the assembly plants.
It is estimated that 10 employees work at the suppliers for each assembly-plant worker. That would equal another 100,000 jobs.
Would we have 110,000 well-paying jobs if it weren't for Mutz? I don't think so.
Mutz would have been a great governor. Beside his political experience (including 12 years in our Legislature), he served as president of PSI Energy, president of Lilly Endowment, chairman of Indianapolis Department of Water Works, and chairman of the Lumina Foundation for Education.
Japan is now Indiana's No. 1 international partner and a good friend. In addition to the auto assembly plants, Japan has more than 200 other business facilities in Indiana, which employ another estimated 30,000 Hoosiers, for a total of over 40,000 jobs.
Mutz opened the door for all of this.
Domo Arigato, John Mutz (That's thank you in Japanese—I think).•
__________
Early served in the Indiana House and as a Republican state chairman, as well as on the Republican National Committee. Send comments on this column to ibjedit@ibj.com.
Please enable JavaScript to view this content.