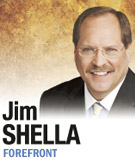 Indiana Democrats will mount a comeback. They will. That's how things work in America. No matter how much success one political party has, events conspire over time to bring down the powerful and lift up the minority. For reference, see Jimmy Carter.
That does nothing to disguise the fact that Indiana Democrats are in a bad place. The Republican Party holds both U.S. Senate seats, six of nine seats in Congress, majorities in the state Senate and House, and every statewide elected office. All of them. Oh, and the GOP made gains in municipal elections in 2011.
And there is probably no better example of the current Democratic predicament than the recent power struggle over the office of state Democratic chairman, a job that would appear less than desirable at first glance.
Dan Parker, who was elected to a term that ends in March 2013, announced plans to resign in early December, for a number of reasons.
• He's been there a long time (seven years in a job with an average tenure of 18 months).
• He felt the need to advance his career.
• Evan Bayh, his mentor, is no longer in office.
• John Gregg, the party's candidate for governor, wanted to have his person in charge of the party apparatus.
Parker and others devised a plan that called for Parker to leave office on the same day the State Democratic Committee would choose a replacement. The plan called for Tim Jeffers to take over. Jeffers was chief of staff to Gregg when Gregg was Indiana House speaker. It would allow Gregg to consolidate the party for maximum effort in the one race that matters most to a political party. The other statewide Democratic candidate, Senate hopeful Joe Donnelly, even agreed to support Jeffers.
Then something went wrong. Jeffers couldn't line up the support to win the vote and never made it to the meeting. The Gregg forces joined with others to come up with another candidate, attorney Sarah Riordan. But Marion County Democratic Chairman Ed Treacy had other ideas. Treacy fielded his own candidate, Joel Miller, and Miller arrived at the State Committee meeting with enough votes to win.
(Parker and Treacy have been at odds over strategy, fundraising and control issues, not to mention personality differences, for years. They don't hide it, either.)
So, when faced with the prospect of turning over party control to an adversary, Parker simply withdrew his resignation. Parker opponents were furious. There's talk of a lawsuit.
The Democrats have a legitimate shot at winning the Governor's Office and a Senate seat in 2012 and they are wasting their ammunition on one another. It caused one party member to react by posting the famous Will Rogers quote on Facebook: "I belong to no organized party. I am a Democrat."
It's all easy to explain in the big picture. Indiana Republicans exercise party discipline because they hold the Governor's Office and Mitch Daniels calls the shots. Anyone who gets out of line must answer to the governor. The Democrats on the other hand have no easily identified party leader, and the state chairman gets to play kingmaker until they do. Not many people want the job, but a lot people want to have input into how the job is done.
Indiana Democrats were in a position much like this in 1985. Evan Bayh arrived on the scene soon thereafter and fortunes changed. Gregg likens him to Moses, saying Bayh led the Democrats out of the wilderness. When you spot the next Evan Bayh, let me know.
In the meantime, Parker has unpacked the boxes in his downtown office. He plans to stay as chairman until March 2013. That is, unless Donnelly or Gregg wins an election. Then, the party would have little choice but to turn control over to a proxy for one of them.
Say this for Parker at the moment; he has a clear understanding of who supports him and who doesn't.•
__________
Shella is WISH-TV Channel 8's political reporter as well as host and producer of the Emmy-nominated "Indiana Week in Review." Send comments on this column to ibjedit@ibj.com.
Please enable JavaScript to view this content.