Indianapolis has its occasional street musician or juggler, but the Super Bowl will bring out a new breed of performer.
Five members of the local collective Q Artistry plan to dress up as referees and stroll around Georgia Street singing football-themed lyrics set to classical tunes. Artistic Director Ben Asaykwee calls the act a "crazy version of caroling."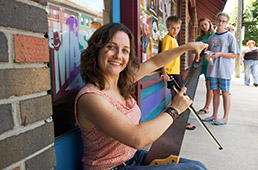 Buskers, like this woman playing a hand saw during the IndyFringe Festival, hope street theater continues downtown long after the Super Bowl crowds leave. (Photo Courtesy Dan Axler)
Indianapolis theater troupe PaperStrangers has concocted a show that's part theater, part parade, Artistic Director Michael Burke said. "The work will be big, loud, vibrant, fun and a bit scary," he said.
The performers, who were hired by the Super Bowl Host Committee, hope to leave local officials and residents wanting street theater year-round.
"This is a perfect opportunity, when Indianapolis has opened its eyes to the possibilities," Asaykwee said.
Police have looked harshly on street performers in the past, but there's no law to stop anyone from working for tips, or busking. And since the city settled a case involving two jugglers early last year, the policy is to allow First Amendment activities, as long as they don't threaten public safety.
The same goes for Super Bowl week, except for on Georgia Street and other areas that the host committee controls through its special-event permit, said Adam Collins, permit administrator in the Department of Code Enforcement. (Collins encourages any would-be buskers to call his office for guidance on the best locations.)
Yet the city's lack of experience with busking has left many artists waiting for an explicit invitation, Asaykwee said. "I would never have thought I would last an hour without someone grabbing me by the elbow and dragging me away."
The city's policy on street performers has changed since it settled a lawsuit in 2011 involving local jugglers. Dave Henby and his cousin Ben Saxon, "The Amazing Merkin Brothers," were doing their comedy-juggling act on Monument Circle in late 2008 when their flaming torches caught the attention of a police officer, who insisted they couldn't perform on a public sidewalk.
The officer moved the duo along, but they returned the next April to take advantage of crowds from the Fire Department Instructors conference. Henby and Saxon performed about 15 minutes before the same officer—plus five others—descended.
The officer confiscated the jugglers' limes, clubs, knives and torches and cited them for violation of three city codes—open burning, failure to screen off a welding or sandblasting operation in a public right-of-way, and private use of a public right-of-way.
Backed by the American Civil Liberties Union of Indiana, Saxon and Henby sued the city, saying such broad application of the ordinances prevented free speech. Under the city's policy at the time, ACLU attorney Gavin Rose argued, officials could have required a special-event permit for a pickup soccer game in a park.
Under the settlement, the city dropped the citations and agreed that Saxon and Henby could ply their trade as long as they didn't overstep certain bounds. Specifically, they can't take up more than half the right-of-way, or block building entrances and exits or handicap-access points.
Those general guidelines would apply to anyone, whether preaching, protesting or performing, Collins said.
City Prosecutor Helen Marchal said the city has changed its overall view of busking.
"We are opening the city up to more of those types of performances," Marchal said. "Now, people are limited only in terms of making sure their actions aren't injurious to somebody else."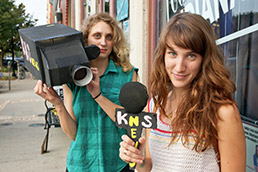 Two members of Know No Stranger perform on Mass Ave during the IndyFringe Theatre Festival in August. Street theater will be part of the Super Bowl festivities. (Photo Courtesy Dan Axler)
Henby, who has a day job, limits his busking to events like the Indianapolis 500 or IndyFringe Theatre Festival that draw a predictable crowd.
"It's just not the best town for it," Henby said. He added, though, that he's hopeful about Georgia Street, now that it's rebuilt to accommodate more pedestrians and special events.
IndyFringe Theatre Executive Director Pauline Moffat shares the same hope.
"This is just a great space to entertain people," she said.
The gatekeeper to Georgia Street post-Super Bowl will be Indianapolis Downtown Inc., which the city tapped to manage maintenance and special events.
IDI President Tamara Zahn said she's talked to the local arts organization Big Car about live, offbeat events that might be staged there. She's open to discussions with other artists as well.
Though buskers have fought First Amendment battles in cities across the country, they gravitate to locations, or "pitches," that weed out glorified panhandlers, said Brent McCoy, a circus-style comedian who has performed at the IndyFringe Festival.
"Street performing in summer is a major part of my living," said McCoy, who lives in northeastern Vermont. He hasn't returned to IndyFringe since 2009 because he's so successful at Faneuil Hall Marketplace in Boston.
Among his favorite pitches are Church Street in Burlington, Vt., which requires a permit, and Pier 60 in Clearwater Beach, Fla., which doles out time slots for buskers.
Faneuil Hall, a privately managed historic market that's a huge tourist draw, requires buskers to audition. Faneuil Hall also lets McCoy take up a 60-square-foot area, and it doesn't disperse crowds of 100 or 200 people.
One mistake that some cities make is thinking the presence of buskers will drum up foot traffic, McCoy said. The people have to be there first, he said, and he generally doesn't start performing until he can count 25 passersby in one minute.
"The reason people work in Boston [is], there's so many people," McCoy said. "Even if it's miserable out, there's people walking around."•
Please enable JavaScript to view this content.