Business usually is booming at KnowSweat Workouts this time of year, as fitness resolutions bring in clients clamoring for a fresh start. The trick is keeping the gym full in April. Or July. Or November.

So Indianapolis-based KnowSweat, which offers fitness classes, personal training and weight-loss support year-round, last month began selling special heart-rate monitors that allow users to measure and track intensity when they exercise. The so-called MyZone data is displayed on a TV screen during workouts in the gym, and the system uploads results to users' virtual log books whenever they show up to check in.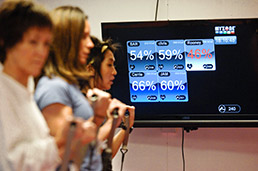 KnowSweat Workouts last month began offering high-tech monitors that allow clients to track intensity while they exercise. Results are displayed on a TV screen during classes. (IBJ Photo/ Perry Reichanadter)
At $60 per device and another $10 per month to access the cloud-based technology, MyZone isn't exactly a get-rich-quick scheme for KnowSweat's three partners. But they are hopeful it will help clients stay motivated—and active.

"It's important to me as a trainer that we're helping people" achieve their fitness goals, said co-owner Marcia Erne. "As gym owners, ultimately we want to bring more people into the gym. I think this will do that."

After all, the bottom line is the bottom line, and even seemingly minor shifts can make a major impact. That's especially true for small enterprises like KnowSweat, which increasingly are adding products and services to keep revenue flowing.

"Your best customer is your current customer," said Butler University management instructor Jim McKneight. "These companies are going back to people they're already dealing with and asking, 'How about …?' It's a less risky, lower-cost way to grow."

Especially in the current economic climate, where credit is tight and costs are unpredictable. McKneight said he has noticed that more entrepreneurs seem amenable to expansion, but few are willing to make a big bet.

"There is so much less room for error with small businesses," he said.

Shifting with demand

Indeed, Mark A. Roger has diversified his Carmel home-decorating firm to mitigate his risk. Roger bought the business in 2003 after two decades as a corporate executive and consultant, moving it to the Village of WestClay in 2005.

Over the years, he has shifted Art & Texture Finish Studio's focus. Instead of working primarily with interior designers on custom wall finishes, he now targets homeowners directly to offer a range of services—including his one-time hobby, furniture restoration. In November, Roger added Backroom@WestClay, a consignment boutique for home furnishings.

It wasn't a grand plan as much as a happy accident.

"Over the last year, people have just been dropping off furniture," he said, gesturing with a bewildered smile to the increasingly crowded second-floor space at his home studio. "I have three households of stuff like this. … Everyone has a few things" they'd like to unload.

He started by offering the best items for sale when the studio was open to the public on Fridays. Then "it got kind of crazy." Now the consignment shop is open Fridays and Saturdays and the inventory—from the studio and from storage—is listed on a website shoppers can access 24/7.

Roger's corporate experience taught him to adapt to changes he sees coming in the marketplace. Art & Texture beefed up its furniture-refinishing services when homeowners began eschewing old-school wall finishes for more modern looks, for example (it also added tangerine orange paint to its palette). Given the still-rocky economy, he expects that business to stay strong as more families opt for quality used pieces instead of cheap new furniture.

That can only help Backroom@WestClay. And vice versa.

"I don't want this to be your grandma's consignment store," Roger said. "I wanted to take a different approach, to offer unusual items. It's a good fit with the main business."

So his boutique sells things like high-end draperies, Oriental rugs and a $6,000 Herman Miller coffee table. He gets excited about an iron bed that just needs a little spit and polish, and he sees potential in the chunky King Hickory armchairs that need a good home.

He said it's already working. The shop is drawing customers who didn't know the studio existed, and it's extending Roger's relationship with decorating clients who are seeking more than paint and spackle.

"It's giving them a reason to come in," he said. "Once you get in here and see what we can do … People are seeking us out."

Even so, Roger plans to wait at least six months before declaring the venture a success capable of standing on its own. That's a good strategy, said Todd Sexton, associate professor of management at IUPUI and an Indiana Venture Center faculty fellow.

Dreaming small

Business owners should "place small bets [on new products and services] and see what gains traction," he said. "If it's not working, move on to a different idea. Too often, we see the escalation of commitment to a dying cause instead."

It helps for the bets to be smart ones. Sexton and other experts advise entrepreneurs to do their homework before experimenting: Ask current clients what they need, and make sure any additions make sense in the context of the primary business.



Providing new options to existing customers usually is easier than starting from scratch, but business owners need to be careful not to overstretch.

"It's critical that they are prepared to perform satisfactorily so that they do not jeopardize the relationship" with clients, said Doug Boehme, a business adviser for the Indiana Small Business Development Center's central region.

Local photographer Greg Perez decided to expand his services a couple of years ago when he noticed commercial bookings beginning to slip. But until recently, he marketed Hotel Boudoir separately from Greg Perez Studio because he wasn't sure his corporate clients would approve of the intimate portraits.

"It's a fine line," he admitted, but "as far as I know, I haven't lost any clients yet."

Now, Hotel Boudoir is mentioned on his website—along with flash/scene, a service he added last fall. He thought the drop in corporate business would be a bump in the road, but it turned into a detour.

"I realized I need to come up with something different … or the ship was going to sink," he said.

Perez, who started out as a fashion photographer, noticed the growing popularity of photo booths at special events and wanted to find a way to capture a piece of that business.

He describes flash/scene as a photo booth without the booth: Perez brings in props to set up a custom "scene" to fit the theme of a wedding or other event, and attendees clamor to take pictures there.

Because it's a better fit with his main business than Hotel Boudoir, he's already seeing some cross-pollination of corporate and event clients.

"It's a good reminder I'm still here," he said.

Another way

Of course, diversifying isn't the only way for small businesses to grow revenue. Some companies take the opposite approach, focusing on a few core competencies and building a client base from there.

"It's a different way of managing risk," said Butler's McKneight. "They are growing by focusing on what they do best. Both strategies could be very successful, but sometimes it's hard to say, 'This isn't what we're good at.'"

KnowSweat isn't putting all its eggs in one basket—or even one continent. Co-owner Ian McCranor is spending time in his native Great Britain, introducing martial arts instructors there to his Taerobics workout. Partner Donna Phelan's weight-loss book "Stop Being Fat 101" hit the market last month; McCranor expects to follow that with a children's book. KnowSweat also has applied for a patent on a martial-arts-based game he created.

And then there are the classes and those high-tech belts. The MyZone monitors not only let users keep track of things like calories burned, but they also allow the trainers to evaluate workouts to ensure they get the expected results—on the scale and the bottom line.

"I hope in a year's time they double our income," Erne said. "But they're too new to know."•