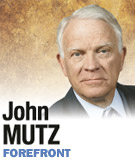 For decades, legislators have used referenda as a policymaking tool when the issue was too hot to handle, or so they thought. Generally, it's a way to kick the issue down the road.

In the next two years, the central Indiana community will likely be asked to consider a new governance system for Indianapolis Public Schools and a new tax to fund an expanded mass transit system for Hamilton and Marion counties.

Before the Legislature adopts this procedure, it should consider the value and appropriateness of using a popular vote to make decisions of this type. On the surface, it might sound good to "let the people decide," but the complexities, alternatives and nuances could easily be lost in such an "up or down" decision-making process.

We expect our elected representatives to make decisions on this kind of proposal and defend them in the next election. That's representative government.

Political scientists who study referendums often cite the high costs, expensive lobbying efforts, low election turnouts and difficulty in properly informing the electorate.

Among the most troublesome questions is exactly how to state the question being asked. How much detail is enough? What other alternatives are there? What will operating costs be? Will the proposed tax be "enough"? Who will make decisions about the issue in the future?

These are just a few of the issues that could be considered by elected representatives who have access to extensive amounts of data.

Sometimes legislators argue that using a referendum is the only way to get the idea approved. If a referendum is the only way to get it done, legislators who favor the idea lack the courage or the ability to convince other legislators to vote for the proposal.

Some referendum advocates like the idea as a way to keep property taxes from rising. This is another abdication of responsibility by elected officials.

An example is the Daniels administration's use of the referendum by local schools to exceed property tax caps set by the state. Referendums do make it harder to increase property taxes, but it still happens when enough money and influence are placed behind the proposal. That's not representative government.

During my legislative career, I was occasionally asked to use a referendum rather than a straightforward vote to achieve legislative goals. In the 1960s, support for an Indianapolis convention center was contingent on an expression of local support. Instead of using a referendum, a compromise was reached that called for a commitment by the private sector to raise $4 million before the project could proceed.

However, the most difficult decision that involved referendum proposals was the passage of Unigov, a form of metropolitan government for Marion County. Opinion polls suggested the idea would not become law if a referendum were used to pass it. The overall idea was supported, but specific proposals that hurt special interests when combined with the various parties that didn't like certain details of the complex system produced enough opposition to defeat the concept.

As the bill moved through the House and Senate, some compromises were made and certain sections eliminated. However, it was clear that, if we wanted to get it done, Marion County legislators would have to support it and convince our colleagues from other counties to join us.

The mass transit proposal now being supported by business and community groups is similar in complexity to Unigov. For it to be successful, it must eventually cover nearly all the counties in central Indiana. The proposal should be reviewed by officials of the various counties that might be included and legislation should be passed that would allow each county to opt into the new system.

This model is similar to the idea proposed by Daniels to fund and build Lucas Oil Stadium and the convention center expansion.

The best public policy is made by well-informed representatives who weigh the options, listen to differing views, are willing to compromise, use common sense, and stand behind their decisions.•

__________

Mutz has held leadership positions including lieutenant governor and president of Lilly Endowment and PSI Energy. Send comments on this column to ibjedit@ibj.com.