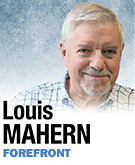 Early last year, Mayor Ballard asked the Greater Indianapolis Progress Committee to come up with the initial 10 Hoosiers to be honored on the $12.5 million, three-block stretch of Georgia Street between the $720 million Lucas Oil Stadium and the $184 million Banker's Life Fieldhouse.
Criteria for selection? Dead at least 20 years; a significant portion of their life in Indiana; national or international recognition.
The selections say more about our insecurities than the pool from which honorees might have been chosen.
Presidents Benjamin Harrison and Abraham Lincoln are among those who will be featured on individual 6-foot-high columns with appropriate biographical material included.
Benjamin Harrison has a grandiose monument a few blocks away on New York Street.
What new can be written on Abraham Lincoln's column except, "Indiana has famous people, too?"
Ernie Pyle lived about half of his life in Indiana, but only three months of his 20-plus years as a storied journalist were spent in the Hoosier state.
Shawnee chief Tecumseh spent no more than four years in the area that would later constitute Indiana. He spent some of that time bearing arms on behalf of the British against the United States in the War of 1812.
Madame C.J. Walker lived in Indiana only three years before she began planning her subsequent move to New York City two years later. Her cosmetics company made a fortune exploiting black insecurities by offering hair-straightening and skin-lightening products.
I'll give you Booth Tarkington and Lew Wallace, despite Wallace's being twice relieved of command during the Civil War. But haven't they received more than adequate recognition?
The Lilly family is not enhanced by another monument or memorial. Their contributions to our city and state are legendary and need no gilding.
Mary Wright Sewall, feminist and suffragette, is pretty much the only current honoree whose contributions far out weigh her "fame."
These people were not chosen to highlight unsung heroes. They are already well-known. Rather, they were selected to reflect well on us. They were picked so visitors walking the Georgia Street corridor will think better of us and not see us as hayseeds.
Don't we have enough self-confidence to honor those who have made real contributions to our city, but have not had the public recognition?
He hasn't been dead the arbitrary 20 years, but who would argue with inclusion of Dr. Frank Lloyd Sr., a highly respected physician, first African-American CEO of a hospital (Methodist) in Indiana, and founder of Midwest National Bank and radio station WTLC, both of which served the black population of Indianapolis?
Chairman of the metropolitan development and White River State Park commissions, serial entrepreneur, physician and civic leader Frank Lloyd Sr. served our community for over 40 years. Would President Harrison mind if Lloyd were honored instead?
John Boner was a founder of the Near Eastside Community Organization. Boner pretty much created the Near East Side Multi-Service Center, was in on the foundation of the Peoples Health Center's toiling tirelessly for 20 years making the near-east side a more livable place. Isn't his contribution more praiseworthy than that of Tecumseh?
Russell A. Lane was principal of Crispus Attucks High School from 1930 to 1957. He encouraged his teachers to further their own education, insisted on discipline in the classroom, and taught his students pride and ambition despite the segregation they endured. He was a positive influence on thousands of Attucks graduates and saw many of them go on to lives of success and contribution. Surely, a better choice than Madame Walker.
Why not recognize real local contribution rather than celebrity? Honoring celebrity is best left to television.
Our grandchildren will read these columns. Whom would we prefer they read about?
The mayor says he will revisit the renaming of Georgia Street after the memorial columns are erected.
Might I suggest "Rodeo Drive?" That should really impress our visitors.•
__________
Mahern has been an assistant to U.S. Rep. Andy Jacobs and U.S. Sen. Birch Bayh and served in the Indiana Senate. Send comments on this column to [email protected].
Please enable JavaScript to view this content.