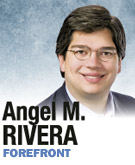 In recent speeches, the new leaders of the City-County Council have called for more buses and libraries. While we should applaud their commitment to building a better Indianapolis, the price tag of city-county government is going to make these rosy promises hard to deliver.
The only certainty may be the little council opposition to expanding the mass transit system—and to the tax increases that will be required to fund it.
I have met most of the men and women serving on the council. They dedicate a significant portion of their personal and professional time to serving their constituents and to balancing the executive branch. They sincerely want to serve our community, and they generally mean well.
However, their first meeting demonstrated that talking about compromise and cooperation is very different from the reality of doing it. The most significant action was an attempt by a few councilors to break from council tradition (and good government in general) by making committees extremely lopsided for one political party. This one-sided approach stifles honest debate and limits creativity.
As our city government looks to the future, it must make hard choices about how to fund the 2,000 civilian and sworn employees of the Indianapolis Metropolitan Police Department, the 1,300 employees of the Sheriff's Department, and the 1,300 firefighters and staff of the Indianapolis Fire Department. With projected budget shortfalls in the 2013 county budget of $50 million—more than the annual budget for our county courts, probation department and juvenile detention center combined—now is not the time to talk about Republicans or Democrats.
We need to have a serious conversation about priorities and allocating scarce resources as part of delivering government services in a free society.
Last year, some of my Democratic council colleagues argued publicly for cuts at the Department of Public Safety, but cuts are a lot harder to make when you are actually writing the budget. Is it time to ask whether the sheriff needs 1,300 people to run the jail and protect county buildings.
The expected revenue shortfalls may provide sticker shock for the new council majority. New Council President Maggie Lewis has the tough job of crafting a budget that both cuts spending and attracts a majority of council votes.
She is the right person for the job—a bright and respectful consensus builder. Steering the council through the competing demands of a new Democratic majority and a popular mayor proposing his own plans will require all her talent and patience.
Lewis showed guts by intervening to defuse the committee fiasco during the first council meeting.
Ballard publicly stated that public safety is job No. 1, and nobody wants to campaign as the party responsible for layoffs among our city's police and fire departments. He has shown restraint in the face of pressure to raise taxes. He has advocated for living within our means and avoiding any increase in the burden local government places on Marion County residents, but the time is fast approaching when we will have to make hard choices to protect basic services.
The new council should focus on learning the budget, advocating for RebuildIndy projects in their districts from the more than $100 million remaining to spend on infrastructure, and digesting the details about the IndyConnect initiative. These issues will shape our city for a long time, and informed leadership is critical to our future.
In this critical moment, Indianapolis politicians must move past partisanship. We have survived divided government before, and at the federal level it often has led to better outcomes.
The next years will be tough, but if Lewis keeps the trust from her caucus, she will prove herself to be one of our city's finest leaders. The impending county budget crisis—and our community's continued progress—won't wait.•
__________
Rivera is a sales consultant and former at-large city-county councilor. Send comments on this column to ibjedit@ibj.com.
Please enable JavaScript to view this content.