WellPoint buys California firm
WellPoint Inc. on Aug. 22 acquired CareMore, a health care delivery firm focused on seniors, for $800 million.
Aprimo acquired for $525M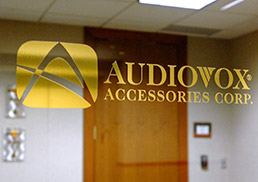 New York-based Audiovox Corp. snapped up Klipsch Group, a high-end speaker maker headquartered in Indianapolis, in March. (IBJ Photo/ Perry Reichanadter)
Indianapolis marketing software firm Aprimo Inc. was acquired for $525 million on Jan. 24 by Teradata Corp., a data storage giant headquartered near Dayton, Ohio.
FinishMaster sold for $217 million
Canada-based Uni-Select Inc. on Jan. 11 acquired FinishMaster Inc., a distributor of auto paint and accessories, for $217 million. FinishMaster was owned by LDI Ltd. in Indianapolis.
KAR buys online auction
A subsidiary of Carmel-based auto auction KAR Auction Services Inc., Adesa Inc., on Aug. 16 acquired Openlane Inc., an online car auction headquartered in Redwood City, Calif., for $210 million.
Klipsch snapped up by Audiovox
Klipsch Group, an Indianapolis-based maker of high-end speakers, was acquired March 2 by New York-based Audiovox Corp. for $166 million.
Cummins sells exhaust business
MVG Acquisition Corp. of Schenectady, N.Y., on April 29 acquired the exhaust business of Columbus, Ind.-based Cummins Inc. for $123 million.
Cummins unloads filtration business
Columbus-based Cummins Inc. on Nov. 2 sold its light-duty filtration operations to Industrial Opportunity LLC, a private equity firm headquartered in Evanston, Ill., and operated by former Cummins executive Hasnain Merchant. The price was $91.5 million.
Interactive buys software reseller
Indianapolis-based Interactive Intelligence Group Inc. on July 5 acquired CallTime Solutions, a software reseller headquartered in Sydney, Australia, for $11.4 million.
Finish Line acquires chain
The Finish Line Inc. on Sept. 1 acquired Princeton Running Co., an 18-store chain of specialty running shoes based in New York City, for $8.5 million.
Interactive snags German firm
Indianapolis-based Interactive Intelligence Inc. on March 1 acquired for $4.9 million a small German firm, Agori Communications, which resells Interactive's software.
Buchanan buys memorial maker
The Buchanan Group, the Indianapolis-based parent of Flanner and Buchanan Funeral Centers, on Oct. 11 acquired Fewell Enterprises Inc., a granite memorial manufacturer in Scottsburg, for $3.5 million.
Trucking firm bought
Hurricane Trucking LLC in Franklin was acquired for $1.7 million on Oct. 3 by Avram Worldwide LLC in Greenwood.
Gold Club acquired
The Gold Club, a strip club headquartered in Indianapolis, was acquired April 25 by Rick's Cabaret International Inc. of Houston for $1.7 million.•
 
Please enable JavaScript to view this content.