August Wilson's Pittsburgh cycle—composed of a play written for every decade of the 20th century—is a remarkable achievement. But if an audience member at one of those 10 plays—including "Radio Golf," currently on stage at the Indiana Repertory Theatre—thinks too much about that monumental achievement while the work is being performed, the individual play isn't doing what it should.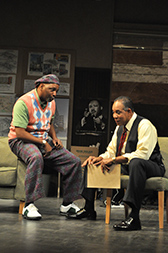 Roosevelt Hicks (David Alan Anderson), left, and Harmond Wilks (James Craven) reckon with the price of progress in "Radio Golf." (Photo/Julie Curry Photography)
So when I say I wasn't thinking much about Wilson or his unprecedented decathlon while watching "Radio Golf" at the IRT, that's a compliment. Rather than reflect on its predecessors or ponder how this one fits into the playwright's oeuvre, I was caught up in the lives of a would-be mayor, a stubborn homeowner, and the multimillion-dollar redevelopment project that hinges on their actions. In other words, regardless of the big-picture context, "Radio Golf" works, on its own, as drama.
OK, so it doesn't have the poetry of other plays I've seen from Wilson's cycle. But it does have
compelling, multi-dimensional characters whose actions affect other actions in surprising and believable ways. It's got people whose efforts to do right and/or make money come into fascinating conflict. And the issues it raises matter—without its becoming a series of position papers.
It helps that the cast is across-the-board strong. Key among the players are Harmond Wilks (James Craven), whose conscience comes into conflict with his ambitions, and Roosevelt Hicks (David Alan Anderson), whose palpable joy in his own success is infectious, until it becomes clear just how strong his blinders are.
__________
Sitcoms—mini-plays concerned more about character and punch lines and familiarity than plot and believability—can be enormously pleasurable. I don't think it's a stretch to say that most comedic plays don't come close to the kick of a decent episode of "How I Met Your Mother."
So when I compare "Current Economic Conditions," the play by Don Zolidis premiering at the Phoenix Theatre, to a sitcom, please understand that I'm not being a sneering scribe, looking down at the form. I'm merely trying to make clear where most of this production's pleasures lie.
"Current Economic Conditions," which runs through Feb. 12, concerns a young woman of limited ambition whose full-time job with a book publisher is downsized into an internship—which she loses thanks to her no-BS sense of humor.
Money being tight, she resorts to moving back in with Mom and Dad while she looks for work and tries not to hate herself.
In the incidents that follow—job interviews, conflict with the parents, meeting an also-unemployed nice guy—character traits exist to serve the jokes rather than the overall piece. And the supporting players aren't meant to be taken as anything but broadly drawn cartoons (although these one-noters are well-played by multi-tasking actors Bill Simmons and Cindy Phillips).
Zolidis' world is one where parents give an adult daughter a curfew, where condoms are nicknamed "raincoats" in a father/daughter discussion so Mom doesn't know what's being discussed, and where we're expected to believe our heroine's bedroom (kept just as she left it) would sport Justin Bieber and "Twilight" posters.
Zolidis gets away with these and more potential cringers because he's so good with jokes and so effective at keeping things moving. And because he's blessed with actress Maria Souza-Eglen, who skillfully recovers from even the most absurd moments with subtle moments of emotional truth faced by her character in crisis. A gesture here and a look there keep things grounded, helping the audience ignore her character's rampant selfishness and the show-ending platitudes.
__________
It's so nice to have you back where you belong.
That's what the Harmonia Gardens waiters famously sing to matchmaking widow Dolly Levi, and that's what I'm saying to the Indianapolis Symphony Orchestra and its musicals in concert.
A few seasons back, the ISO combined its talents with top Broadway pros and crafted a magical "Guys and Dolls." Sans sets but with music on a scale unheard of on Broadway, it delivered a show that made even my New York theater geek friends jealous. The ISO took a similar run at "Hello, Dolly!" (Jan. 13-15) and, while the result wasn't as transcendent as "Guys and Dolls," it was still a delight.
If such concerts only offered an opportunity to hear a warhorse Broadway score with full orchestra, that would be enough. But maestro Jack Everly and Executive Producer Ty A. Johnson didn't settle for shortcuts.
First, they lured a musical star into the lead. OK, so Sandi Patty might not yet have the acting chops—at least, not yet—to head a full production of "Dolly." But for a concert production, she delivered as promised. Carol Channing wasn't missed.
It helped that the show had been tinkered with a bit to take some of the early weight off of her shoulders. Specifically, the cut-before-Broadway song "Penny in My Pocket," offered early in the show by Horace Vandergelder, the man Dolly's targeted for marriage, helped strengthen that character. It also served to give more stage time to the wonderful Gary Beach (a Tony-winner for Broadway's "The Producers" and a vet of the ISO "Guys and Dolls").
When you've got two high-profile leads, it might be forgiven if the supporting cast were second-tier. But Everly and company went the extra casting mile with the enigmatic James T. Lane (from Broadway's "The Scottsboro Boys") and N.Y. theater vet Laura Shoop (offering a beautifully sung "Ribbons Down My Back") standing out in a consistently strong company.
What was lost? Well, some of the dialogue was trimmed, the farcical elements in Act II didn't quite play. And if you really were hoping to see the big polka competition, sorry. But those were small, small sacrifices for musical theater bliss.•
__________
This column appears weekly. Send information on upcoming arts and entertainment events to lharry@ibj.com.
Please enable JavaScript to view this content.