Indiana's taxpayer-supported venture capital fund picked a winner in Marcadia Biotech, but Sen. Brent Waltz doesn't think the state saw enough of a payday.
The state got its $2 million back, plus $600,000, after the Carmel biopharmaceutical company sold to Roche Diagnostics in late 2010 for $287 million.
To Waltz, who also owns the investment-banking firm The Baron Group, Marcadia should have earned the state tens of millions—enough to fund multiple rounds of investment in other businesses by the state's 21st Century Research and Technology Fund. Created in 1999, the fund is the Indiana Economic Development Corp.'s primary tool for supporting high-tech entrepreneurs.
Waltz
"The IEDC doesn't have a fiduciary responsibility when it comes to taxpayer money," said Waltz, a Republican from Center Grove. "I think that's an oversight that needs to be corrected."
Waltz has filed a bill that would put new requirements on the IEDC and businesses seeking awards from the 21st Century fund. Though his bill doesn't use the term "fiduciary," it would require the IEDC's board to "act with the care, skill, prudence, and diligence that a prudent person acting in a like capacity and familiar with such matters would use in the conduct of an enterprise of a like character with like aims."
The bill also would require applicants to match the state's money with outside capital at a four-to-one ratio. And all IEDC contracts would have to be reviewed by the Attorney General's Office, which is the policy that applies to other state agencies.
Commerce Secretary Dan Hasler, who heads the IEDC, could not be reached for comment, and spokeswoman Katelyn Hancock did not provide a statement on the legislation.
The 21st Century fund's manager, Stephen Hourigan, said Waltz's legislation would hamstring him in making deals, thus undermining the mission of encouraging startups.
"I understand what he's trying to do. He's trying to provide the safeguards," said Hourigan, CEO of the not-for-profit Elevate Ventures, which manages the 21st Century fund on the IEDC's behalf.
"You can overdo it … to the point that entrepreneurs leave Indiana."
The 21st Century fund spent about $10 million in the 2011 fiscal year. Most of the money, $7.95 million, went to 11 Indiana companies in software, health care and life sciences. The rest was spent on matching grants for 30 companies that received federal Small Business Innovation Research awards.
The state's direct investments ranged from $350,000 to $1 million. Some companies raised enough from other investors to provide an even match, while a few others raised two to three times as much as the state provided.
Waltz said he's troubled that the IEDC doesn't necessarily require a company to provide a match.
"In the words of the IEDC, they hope the money comes in six months. I think it should come in at the same time," he said.
Waltz's bill has been referred to the committee on Commerce and Economic Development, where he thinks it will get a hearing, and potentially pass the Senate. He also hoped that Sen. Luke Kenley would join the bill as a co-author, though no co-authors have been listed so far.
Ball State University economist Michael Hicks, who in 2010 evaluated the 21st Century fund's performance through 2008, said he's never heard of a state-run venture fund that stipulates the ratio of private-to-public investment.
Hourigan said there are practical reasons the IEDC takes deals on a case-by-case basis. Especially in this difficult economic environment, he said, there are companies that have lined up major customers before they've attracted the attention of the investing community. If Indiana helped them roll out a viable product, that would bring revenue and growth, and investors would follow.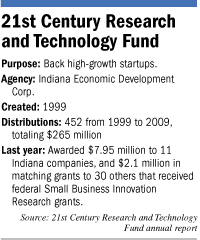 Homegrown software firm Bostech used its $1 million award last year to build a sales and marketing force around its software for medical laboratories, hc1.com. CEO Brad Bostic declined to disclose revenue, but said it grew 60 percent last year and is on pace to increase 300 percent in 2012.
At the time of the 21st Century fund award, Bostech had raised $1.3 million from insiders and angel investors, Bostic said. Since the rollout, he said, "We haven't had difficulty raising capital."
Bruce Kidd, who managed the 21st Century fund from 2005 through 2008, doesn't think any of the companies that were funded in 2011 could have landed outside capital on a four-to-one ratio.
"I think it's going to impede them dramatically," he said of Waltz's proposal.
Under Hourigan, who joined IEDC in 2009, the 21st Century fund has shifted its focus from startups that need money to make their products commercially viable to those that are ready to go, but need capital to fuel growth.
Considering changes already under way, Hicks said he doesn't see the point of enacting a "bevy" of new reform.
"In general, I don't think good government works that way," he said.
It's not clear that Waltz's legislation would ensure Indiana taxpayers see a greater return on successful investments.
Kidd noted that the return from Marcadia was the result of a policy shift in 2006. The fund began to stipulate in all its agreements that Indiana had to at least get its money back if a company went public, sold or left the state.
Indiana received nothing back when Endocyte, the West Lafayette cancer-drug company, filed for an $86 million initial public offering in 2010. That's because the 21st Century fund made its $4 million in grants to Endocyte between 2001 and 2004, before the policy change.
So far, Marcadia is the only company that's brought a return on investment to the state.
"I think we got a reasonable payback," Kidd said. "You don't know what the path is going to be."
The money Indiana gave to Marcadia—and most other companies until 2011—was in the form of a grant.
Hourigan agreed with Waltz that the deal could have brought a huge payday, if the state had held an equity position in the company. But policymakers saw that as problematic, Hourigan said.
Hourigan said that, since late 2010, he has persuaded IEDC leaders to allow him to make awards in the form of a convertible note, so that certain future transactions, such as a sale, or later rounds of private investment, do leave the state with an equity position.
Indianapolis-based Wellfount Corp. is among the companies receiving an award under the new deal structure, Hourigan said. Wellfount received $1 million from the state in 2010, and later, Arboretum Ventures of Ann Arbor, Mich., invested $6 million.
The state will gain financially if Wellfount takes off, he said, and the deal is raising Indiana's profile in the venture capital community.•
Please enable JavaScript to view this content.