Plans are in the works for a wine bar called Tastings that would take the first-floor corner space at the Conrad Indianapolis
and continue an explosion of sidewalk seating at downtown restaurants.
The $1 million project would add an entrance
to the luxury hotel at the northeast corner of Washington and Illinois streets and include a total of 80 outdoor seats along
both streets, in the shadow of the Artsgarden.
The wine bar, offering a rotating selection of more than 100 wines
by the glass, would replace the hotel's indoor Vitesse lounge and serve as the flagship of a small chain based in St.
Petersburg, Fla., said Stephen Graham, a local restaurant consultant in line to serve as the wine bar's general manager.
The concept features machines that remove oxygen and add nitrogen to wine to preserve flavor and lengthen its
shelf life. Guests also will be able to order cheese plates, salads, sandwiches and desserts.
The owners of
the Tastings—A Wine Experience franchise, local entrepreneurs Lisa and Jack Bailey, declined to discuss the project
since a final lease had not been signed by *IBJ's deadline. A spokeswoman for the hotel also declined to discuss the
restaurant, which is slated to open in the fall.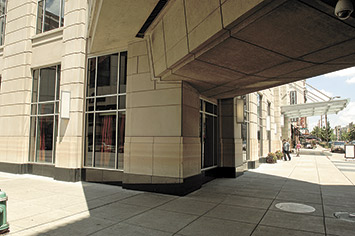 Plans call for a wine bar at the northeast corner of Illinois and Washington streets.
The wine bar would
fill a restaurant niche missing in the downtown market at a time when wine's popularity is rising, said Steve Delaney,
a veteran restaurateur and principal in Sitehawk Retail Real Estate. Add to that the location at one of the best corners in
downtown Indianapolis and the deal looks like a winner, he said.
The new restaurant would add to a roster of
almost 100 downtown eateries offering a total of about 2,200 outdoor seats, said Terry Sweeney, the director of real estate
for not-for-profit downtown booster Indianapolis Downtown Inc.
The group in 1998 launched an effort to encourage
outdoor restaurant seating, at a time when Rock Bottom Brewery was the only restaurant in the downtown core offering sidewalk
dining.
"It really enlivens the streetscape, creates that urban bustle and vitality," Sweeney said
of outdoor seats. "From a restaurant's perspective, it's an opportunity to increase their size and attract
more customers. It's a great marketing tool."
The push has caught fire of late. The two downtown
restaurants with the most outdoor seating, Scotty's Brewhouse with 200 seats and Zing with 125, both opened within the
last year. Front Page Sports Bar & Grill now has 120 outdoor seats after doubling in size earlier this year.
And more outdoor seating is in the works. Panera Bread has asked for the city's permission to include sidewalk and
atrium seating for its restaurant under construction at Claypool Court, across Illinois Street from the Conrad. The bakery
cafe, which is taking space next to Weber Grill, has asked for a zoning variance to allow seating along Washington Street.
Milano Inn is looking to open a 3,700-square-foot outdoor dining area at its South College Avenue restaurant.
Adobo Grill and Pita Pit also are looking into outdoor seating outside their locations on Washington
Street.
Other restaurants, like Bazbeaux, would add more if they could. The Massachusetts
Avenue pizza staple has had outdoor tables at least 20 years, but adding to the 32 seats would require
taking away parking, a proposition unlikely to win city support.
If you want one of those chairs on a nice night,
you'll have to arrive early, said Bazbeaux General Manager Tom McCaffrey.
"It's
a definite attraction," he said.
Please enable JavaScript to view this content.