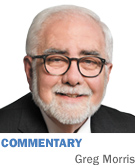 As Indianapolis welcomes the world for Super Bowl XLVI, I find myself thinking back to Feb. 4, 2007, when the Colts beat the Chicago Bears to win Super Bowl XLI, 29-17. After this season, that seems like a long time ago, but the great memories are still fresh.
I didn't think I would get to go to the game, but it was meant to be. My eldest son, Chad, was living and working in Fort Lauderdale at the time and the game was to be played at Joe Robbie Stadium (now Sun Life Stadium) in Miami. So, we had to go. The game was practically in his back yard.
We looked for reasonably priced tickets, but weren't able to find any—that is, until a fateful call came Tuesday morning of game week. Chad heard from a friend in Chicago who came across two Super Bowl tickets courtesy of the Minnesota Vikings organization. Because of the source of the tickets, if they were resold, the selling price had to be at face value. They could not be sold for a profit. I believe the cost was $650 each, which included admission to the Taste of the NFL event the night before the game. It was an unbelievable bargain at the last minute.
We snagged those tickets in a nanosecond. I booked the last remaining seat on an Air Tran flight to Fort Myers on the opposite coast on Friday, rented a car, and drove across Alligator Alley to my son's studio apartment. I remember sleeping on a small couch in cramped quarters with his lovable Australian Shepherd, Foster, who thinks he's the world's largest lap dog. It was cozy.
The bonding time with my son was great. The rock band Styx played at the Taste of the NFL and that event was great. Automatic Slims, the ear-deafening and raucous three-level bar we went to in Lauderdale was great, although I felt too old to be there. And, of course, the game was great once we recovered from Bears Devin Hester's taking the opening kickoff 92 yards for a touchdown. We were among the crowd of about 74,500. That was another great experience, even though we were sitting in a section of the stadium where we were surrounded by loud and obnoxious Bears fans.
The only thing that wasn't great was the weather. It had never happened in Super Bowl history, but it started raining hard at game time and it didn't stop until well after the game was over. The wind gusts were so strong it rained sideways into your face. I've never been so wet and cold in my life. I was so cold by halftime, I went down in the concession area, which was covered, and watched the halftime show performed by Prince on the TV monitors and stayed there for the entire third quarter.
But we won the game, and I eventually dried out and warmed up. Despite the weather, it was a wonderful experience. I have a framed picture in my office of my son and me, soaking wet and holding up our fingers to indicate that we are No. 1. The inscription on the frame says, "Who wouldn't want to be us?" Great memories.
Now I think about all those New York Giants and New England Patriots fans coming to Indianapolis hopeful for a big win and making their own great memories. I look around the city and see the results of all the hard work and planning, and I feel so proud of what we have accomplished. We truly do live and work in a wonderful city with great leaders and amazing volunteers.
Unlike when I was wet and cold in Miami, the fans at Super Bowl XLVI will be comfortable inside Lucas Oil Stadium as they cheer for their team. Regarding any potential weather issues here during Super Bowl week, there's been so much thought and planning that weather shouldn't be an issue. However, saying a weather prayer might not be a bad idea. It could be similar to the prayer delivered in the movie "Patton," with George C. Scott, who, portraying the title character, asked for good weather for battle. It's worth a shot.
Indy is ready. Welcome, football fans. It's game on. Good luck to the Giants and the Patriots. May the best team win!•
__________
Morris is publisher of IBJ. His column appears every other week. To comment on this column, send e-mail to [email protected].
Please enable JavaScript to view this content.